Phone hacking: Ex-News of the World journalist Dan Evans charged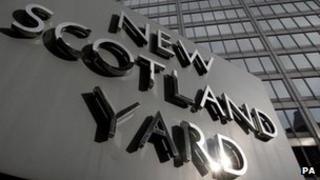 A former News of the World and Sunday Mirror journalist has been charged with conspiring to hack phones.
Dan Evans was also charged with conspiracy to commit misconduct in public office and committing an act which could pervert the course of justice, prosecutors said.
The charges are part of the Met Police probes into phone hacking and claims of illegal payments to public officials.
Mr Evans, 37, is due at Westminster Magistrates' Court on Wednesday.
Gregor McGill, a senior CPS lawyer, said: "The CPS has concluded there is sufficient evidence and it is in the public interest to charge Daniel Evans with four offences in connection with the phone hacking investigations."
He said Mr Evans, of Kilburn, north-west London, was accused of:
Conspiring to intercept the voicemails of "well-known people and those associated with them" - phone hacking - between 28 February 2003 and 1 January 2005
A second phone hacking charge between 30 April 2004 and 1 June 2010
Conspiring to commit misconduct in a public office between 1 January 2008 and 1 June 2010
Committing an act "which had a tendency to pervert the course of justice" - making a false witness statement at the High Court between 21 June 2009 and 30 April 2010
Mr Evans had also worked at the Sunday Mirror, leaving at the end of 2004.
He was first arrested in August 2011.