Meredith Kercher accused: My life is on hold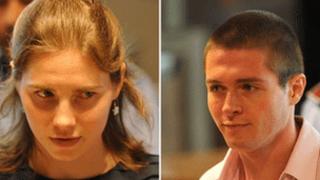 The Italian man convicted and then cleared of killing Meredith Kercher says his life is "on hold" while he awaits a retrial over her murder.
Raffaele Sollecito told ITV's Daybreak he "cannot find a normal life, a job, a career or something to focus on".
He and ex-girlfriend Amanda Knox were found guilty in 2009 of killing the British student in Perugia, Italy, but both were later acquitted.
In March, Italy's highest court overturned both acquittals.
Miss Kercher was found dead in a flat she shared with American Ms Knox.
The 21-year-old Leeds University student, from south London, had been repeatedly stabbed.
'On my shoulder'
Both Mr Sollecito and Miss Knox maintain their innocence and their retrial is due to begin in Florence on 30 September.
The Italian told ITV: "Every tiny little day, it is constantly on my shoulder, because these trials, this kind of situation, has put my life on hold.
"I cannot find a normal life, a job, a career or something to focus on instead of thinking about the trial, about the documents, about what will happen, about how to pay lawyers, how to pay my bills."
Asked about his relationship with Miss Knox, Mr Sollecito said: "It was a teenage romance, it was a blossoming, we were eager to date each other to see each other every day.
"But as soon as we dated and we started to have this romance, it was shut down, it was destroyed by events and circumstances."
Speaking about their time in prison, he said: "We shared letters, we kept each other positive, we gave each other strength. We were writing about daily circumstances, of the suffering."
He said the pair remained friends but had "moved on".
"I know that if I didn't meet her I would have a different destiny. But it doesn't change the fact that the mistakes weren't made by her," he added.
Forensic evidence
Miss Knox and Mr Sollecito were sentenced to 26 and 25 years in prison respectively after being convicted of murder and sexual violence in December 2009.
However, they were freed on appeal by a court in Perugia in October 2011 after doubts were raised about the forensic evidence against them.
Prosecutors and lawyers for the Kercher family then challenged the acquittals, which were subsequently overturned by the Court of Cassation because of the way the appeals process had been handled.
The rerun of Miss Knox's and Mr Sollecito's appeals due to start in Florence on 30 September is technically not a new trial, but a continuation of the original one and therefore not considered "double jeopardy".
Miss Knox's lawyer has said she will not return to Italy for the hearings.
Another man - Rudy Guede from Ivory Coast - was convicted of Miss Kercher's murder in a separate trial and sentenced to 16 years in jail.