Newspaper review: Papers mull Syria vote fallout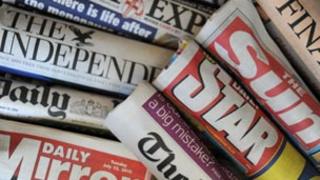 The consequences of Parliament's decision last week to reject the principle of UK military intervention in Syria continue to loom large in column inches.
The Times's top story tells of how British military chiefs are "being ejected" from meetings about Syria at US Central Command in Florida.
This represents the first direct consequence of the House of Commons' refusal to back military action, the paper believes.
About 30 UK personnel had been working alongside US and French counterparts, it says, but are now no longer trusted with high-level intelligence on plans.
Still, the call from some senior political figures for Parliament to reconsider its position finds little backing in the leader columns.
The Times is the only one to urge the government to arrange a second Commons vote. Military intervention is justified by the mounting evidence that the Assad regime has used chemical weapons against civilians, it says.
But the Express argues that it would be disastrous for ministers to ignore the result of the first vote.
The Mail thinks a second vote so soon would be a blatant insult to democracy.
By accident rather than design, the Sun says, Parliament spoke for the majority of voters.
Afghan support
Meanwhile, the Guardian examines the prospect of continuing Western involvement in Afghanistan.
The top US and Nato commander in Afghanistan, General Joseph Dunford, tells the newspaper that the country's police and army are losing too many men in battle, and may need up to five more years of support before they can fight independently.
The sale of Vodafone's stake in the American mobile phone company, Verizon Wireless, makes the lead for the Financial Times and the Independent.
The Treasury is under pressure to review rules allowing Vodafone to avoid paying tax on its massive windfall, the Independent says.
But it also believes that the British economy will receive a tangible boost from the windfall due to UK-based shareholders, who will enjoy a portion of the sale's proceeds.
School overcrowding
As many pupils return to school, the Mail's main story says thousands of them are being squeezed into extra classes at primary schools struggling under a huge influx of children.
The crisis has been caused by a baby boom, rising immigration and families being priced out of the private sector, it says.
"Pupils packed in like sardines," is the paper's choice of headline.
Finally, a small landscape painting bought from a box of unwanted objects at auction for £30 has been revealed as a John Constable original, worth an estimated quarter of a million pounds.
The Telegraph says the 19th Century painting has remained in a drawer at the buyer's home since he bought it in Canterbury 10 years ago.
When Robin Darvell passed the painting to his son, Rob - the Times says - he approached an art expert to see if the "J Constable" signature on the back really was the famous painter.