Newspaper review: Papers focus on calls for Syria rethink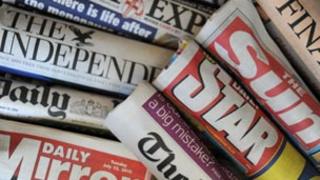 There is growing pressure on the prime minister to hold a new Commons vote on British participation in any military action against Syria, according to the Times and the Daily Telegraph.
David Cameron ruled out action in the wake of last week's parliamentary defeat.
But the Times says senior figures from each of the main parties believe that President Obama's decision to delay air strikes - so Congress can have its say - paves the way for a rethink by Mr Cameron.
Writing in the Times, former Foreign Secretary and Defence Secretary Sir Malcolm Rifkind suggests that the Labour leader's concerns about premature action are now being met.
He says Ed Miliband and David Cameron need to meet privately and discuss whether there is now "sufficient common ground" to allow them to agree on a British policy with international allies.
The Mayor of London, Boris Johnson, uses his Daily Telegraph column to suggest that a new motion on Syria could be put to MPs.
"If there is new and better evidence that inculpates Assad" in a chemical attack, Mr Johnson says he sees "no reason" why another vote cannot be held.
Cautious approach
A number of papers believe President Obama is taking a big gamble by waiting to seek Congressional approval for a US military attack.
The Guardian says Mr Obama is right to take a cautious approach, particularly as he is due to come face to face with Russian President Putin later this week.
But the paper also goes on to warn that the need for an engaged strategy is as urgent as ever "and is neglected at our collective peril".
For Independent correspondent Robert Fisk the word is "watershed". He says that once the Middle East "trembled when Washington spoke. Now they laugh".
As Nelson Mandela spends his first night at home after nearly three months in hospital, a number of papers suggest that the former South African president has returned there to see out his final days.
The Sun says that if there is ever a man who deserves to pass away peacefully, surrounded by family and friends, it is Nelson.
Literacy and numeracy
The Daily Express leads with a story about another potential health benefit from taking statins.
The paper says researchers in Taiwan have found that a high dose of the drug, which is normally prescribed to people at risk of heart attacks and strokes, could reduce the risk of dementia in old age by two-thirds
A previous study had suggested that taking statins might help alleviate the symptoms of dementia but the paper says this latest study shows even greater promise.
The Alzheimer's Society tells the Express it would like to see more research into any link between statins and cutting the chances of dementia.
The government decision that pupils must get at least a C grade in English and maths GCSEs before they can drop the subjects gets the thumbs up from the Daily Telegraph.
The paper says not only is it "a good idea", but potential employers have been saying for some time that new recruits are often found wanting when it comes to literacy and numeracy.
"Quite right too," says the Independent of the education secretary's latest plan.
But the paper warns that the measure alone "will not solve the problem" of improving the skills of Britain's young people.