British soldiers arrested after New York brawl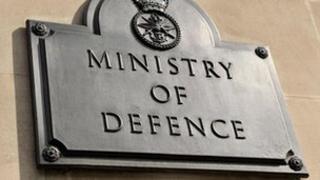 Six British soldiers have been arrested in New York after a brawl with an off-duty NYPD police officer outside a bar.
The Daily Record said one of the soldiers swiped the officer's mobile phone and neck chain when he tried to call an emergency number.
The Royal Regiment of Scotland soldiers were said to be in the city to play a rugby match against New York police.
The Ministry of Defence said it was "aware" of an incident in New York involving British soldiers.
The soldiers were arrested when police arrived at the scene outside the Mercury Bar in the Murray Hill area of Manhattan at about 04:40 local time on Friday.
They have been named as Iosefo Yavala, Iliakini Raderua, Thomas Shute, Felite Vunisarati, Mosese Kuruala and Joeli Raduva.
'Punched and robbed'
The regimental rugby team was due to play a match at the Mystic River Rugby Club in Boston on Saturday.
An NYPD spokesman said: "On Friday 30th at 4.40am in front of Mercury Bar, 493 3rd Avenue, an off-duty officer was punched and robbed by three or four males.
"The off-duty officer called 911 and officers responded. Six arrests were made in regards to the incident."
An MoD spokesman said: "We are aware of an incident in New York involving some British soldiers.
"This is a matter for the NYPD and it would be inappropriate to comment while there is an ongoing investigation.
"All those who are found to fall short of the Army's high standards will face disciplinary action, up to and including discharge, if appropriate."