The task facing the new chief rabbi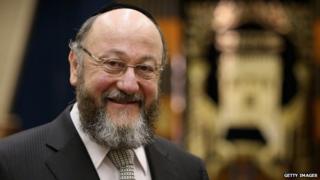 Rabbi Ephraim Mirvis is set to take over as the UK's chief rabbi. Why is the position the source of increasing controversy within the Jewish community?
Rabbi Mirvis' reputation precedes him. A good manager and a great pastor, say his friends.
In person, he is considered and assured, but calm and soft spoken, aware of the magnitude of the job ahead of him, but confident of carrying it out.
Ephraim Mirvis is 56, the son and grandson of rabbis, born in South Africa, and a former Chief Rabbi of Ireland.
Rabbi Mirvis, who is married and has four children, has served as rabbi of two large London synagogues, and was selected after an exhaustive search by the Orthodox Jewish establishment.
He succeeds Lord Sacks, who is noted for his eloquence and intellect, and who for 22 years relished his role in representing British Jewry to a curious, if sometimes uncomprehending, public.
Like Lord Sacks, Ephraim Mirvis will be leader of the "United Hebrew Congregations of the Commonwealth", the Orthodox branch of Judaism.
In Orthodox services - as in Ultra-Orthodox synagogues - men and women worship separately, only men qualify to be rabbis, and the services are conducted entirely in Hebrew.
What is known as the United Synagogue makes up the biggest single grouping of religious Jews, but by no means the whole community.
The post of chief rabbi was created in 1704 at a time when the Jewish population of Britain was more uniformly Orthodox.
However the rapid increase in non-Orthodox groups has created disagreement about how far the Chief Rrabbi of the United Synagogue genuinely represents all British Jews.
The fastest growing group are Ultra-Orthodox Jews - known by the men's dark hats and uncut side-locks - who look elsewhere for religious authority.
'Power houses'
The Liberal and Reform movements in British Judaism have also grown in number, and are most vehement in rejecting the chief rabbi's leadership.
Many other Jews regard themselves as only culturally Jewish.
Rabbi Mirvis faces testing challenges even within the Orthodox synagogues, where congregations have dwindled, and an estimated half of young Jews marry outside the community.
A feminist movement is demanding a greater role for women in the leadership of synagogues.
Rabbi Mirvis recognises the problems, but says he has plenty of ideas about how to address them.
Synagogues should be transformed, he says, to become "power houses of Jewish culture, social, educational and religious activity".
Rabbi Mirvis says a lot has already been done to address the call by some Orthodox women for a greater role in the life of synagogues, pointing out that the United Synagogues decided recently that women could chair congregations.
He was also the first Orthodox rabbi to oversee the appointment of a woman as the senior member of his synagogue's education team, providing education and advice to other Jewish women.
However, these developments might not be enough to prevent the steady leak of Orthodox synagogue members to other denominations, or out of religious life altogether.
Lucy Dodds is an example of the young Jews leaving Orthodox synagogues after marrying outside Judaism.
She describes her childhood in a conservative Orthodox home in Glasgow, keeping to traditional Jewish rules, including eating only kosher food.
Attitudes vary between Orthodox communities, but Lucy insists that her husband Stephen, a Roman Catholic, would not have felt welcome in hers.
'Totally misleading'
Like others who have married non-Jews, Lucy gravitated to the Liberal Synagogue in Kingston upon Thames in south-west London and attends its services with Stephen and their two children.
Stephen Dodds could have converted according to the rules of Liberal movement synagogues after completing the one-year course in Judaism they recognise.
However, Rabbi Mirvis intends to maintain Orthodox tradition, requiring a demanding programme of conversion lasting seven years.
"Where people have gone through a process which is not in tune with our standards then we don't recognise their Jewishness," he says.
The Rabbi of Brighton and Hove Progressive Synagogue, Elli Tikvah Sarah, is unhappy that Rabbi Mirvis will not recognise her, or her Reform synagogue colleagues as properly ordained rabbis.
When I asked Rabbi Mirvis about this point, he would only say that different religious groups had their own criteria through which they appointed their spiritual leaders and it was not for him to determine how they did it.
However, he said he would call such rabbis by the title "rabbi" out of respect, and assured them that he was "totally dedicated and committed to work with the non-Orthodox community".
Rabbi Jonathan Romain, who leads the Reform Synagogue in Maidenhead, says the title of chief rabbi "gives a totally misleading impression of his authority".
Yet Rabbi Mirvis will expect to articulate the Jewish perspective on issues of the day.
He says all Jews will find in him "a genuine friend".
"The unity of the Jewish people is of enormous importance," he continues. "We have to build on what unites us and not to concentrate on what separates us."
Rabbi Mirvis can expect to be in office for some time - there have been only ten chief rabbis in more than 300 years, and collectively they have seen more than 50 prime ministers come and go.
His ambitions include an intention to "shape lives and transform communities" during his chief rabbinate.
"I hope," he concludes, "people will be more in tune with their surroundings, more engaged with the world, more responsible towards each other, and that we will make society more civil."