UK summer warmest, driest and sunniest since 2006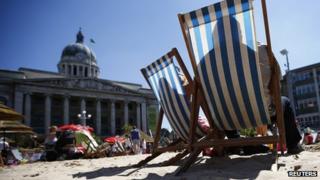 The UK has experienced its warmest, driest and sunniest summer since 2006, the latest Met Office figures show.
The mean temperature in the period from 1 June to 28 August was 15.2C (59F), which is 0.8C above average.
There were 588 hours of sunshine, making it the seventh sunniest summer since records began in 1929.
The Met Office said that although it was above average, the summer was "not exceptional". It stands out because the last six summers have been so wet.
"It is likely this summer will finish around eight to 10th warmest in the national record dating back to 1910," a Met Office spokesman said.
There were 189mm (7.45 inches) of rain, which is 78% of the UK average.
While it was the driest summer in the UK as a whole since 2006, south-east England and East Anglia had their smallest amount of rain since 1995.
The spokesman said: "It stands out because the last six summers have been wetter than average, with 2012 and 2007 both being in the top five wettest, and 2008 and 2009 also in the top 10 wettest in records from 1910.
"This summer also contrasts with the rather cool summers of 2011 and 2012."
The UK experienced a 19-day heatwave in July, when temperatures regularly passed 30C (86F).
Those high temperatures proved to be good news for retailers, with sales of suncream, alcohol, meat and barbecues helping to push retail sales up 2.2% compared with July last year, according to the British Retail Consortium.
The highest temperature of the year of 34.1C (93F) was recorded at Heathrow airport, west London, on 1 August. But that is still short of the highest temperature in UK history of 38.5C (101F), recorded at Faversham, Kent on 1 August 2003.