Newspaper review: Syria crisis in the headlines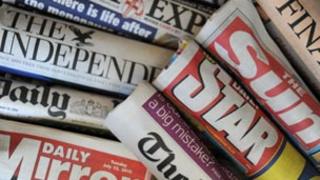 Many of the papers are dominated by coverage of the Syrian crisis.
Writing in the Daily Telegraph, Foreign Secretary William Hague says Britain's national security will be at risk if it fails to respond.
He says the UK cannot permit "the creeping normalisation of the use of weapons that the world has spent decades trying to control and eradicate".
The Times says the White House is preparing intelligence material, including intercepted communications, which it says will prove the Assad regime was responsible for last Wednesday's chemical attack.
The paper suggests the military response is likely to entail a barrage of cruise missiles fired from warships and submarines over two to three days.
The Mirror claims British special forces are already in Syria identifying sites for air strikes.
It quotes a military source as saying it is vital to identify Syrian missile sites that could threaten British ships or planes.
The Financial Times says the prospect of an allied attack on Syria has caused nervousness in the markets, with share prices falling in volatile trading.
The Mail says Thursday's vote in the House of Commons will be a tense affair - with reservations about the prospect of military action on both sides of the chamber.
The Independent says David Cameron appears to have implied that military action could take place without a mandate from the UN Security Council - and before the UN weapons inspectors report on their examination of the site of the attack.
The Guardian has a report from the main border crossing between Syria and Lebanon which it describes as "frantic".
The Sun has commissioned a YouGov opinion poll, which suggests a clear majority of the people in the UK are against military action.
Pasting chefs
A number of the papers pick up on comments made by celebrity chef Jamie Oliver.
The Daily Express says he has given young Britons "a pasting" - saying he depends on immigrant workers to keep his restaurants running because British youngsters are not willing to put in long hours.
The Mirror says the chef believes young British people are "too wet for work" and claims European immigrants are "much stronger" and "much tougher".
It has spoken to a British worker in one of Mr Oliver's restaurants, who described his boss's comments as "unfair".
The Guardian explores some of the weird and wonderful words that have made it into latest edition of the Oxford Dictionaries online.
Top of the list is "omnishambles" - first uttered by the spin doctor Malcolm Tucker in the TV series The Thick of It - and later used by Ed Miliband to criticise the government.
Other new words include "selfie", a photograph taken of oneself, and "food baby", defined as a "protruding stomach caused by eating a large quantity of food, resembling a woman in the early stages of pregnancy".