Kenya death: David Parkinson's wife condemns 'evil' killers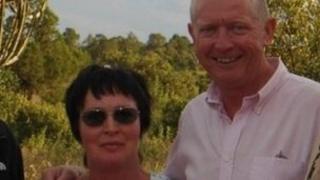 The wife of a retired British army officer murdered in his Kenyan home says his killers are "evil" and pose a "serious threat to others" until caught.
Sonja Parkinson, who escaped from the five robbers by hiding in a strongroom, described her husband David as a "loving husband and great father".
She also praised the Kenyan police and government for their swift response to the armed attack at their remote ranch.
One suspect has been arrested, says Kenya's Daily Nation newspaper.
The paper also reported that police were pursuing important leads which could lead to more arrests.
'Sharing our pain'
The Parkinsons, who have two grown-up daughters, were attacked when the gang, armed with machetes and a gun, smashed their way into their Lolldaiga Hills house near Nanyuki, Laikipia, in central Kenya in the early hours of Sunday.
During the ensuing confrontation, Mr Parkinson's hand was cut severely and he was fatally wounded, police have said.
Police said the gang had escaped with a small haul including Ms Parkinson's purse, a bottle of champagne, a laptop and a mobile phone.
In a statement delivered through the British High Commission in the Kenyan capital Nairobi, Mrs Parkinson said her husband had been killed in the "most senseless way".
"We hope that they (his killers) will be caught and brought to face the full consequences of their actions," she said.
"At present they remain at large and continue to pose a serious threat to others."
She said the family, originally from Hurstpierpoint, West Sussex, had been uplifted in their "darkest hours" by the overwhelming support from the local communities.
"David was a good man, a loving husband and great father, son and brother.
"After his military career he directed his energies into conservation and training here in Kenya," she said.
"His activities have resulted in direct improvements to the lives and skills of many in the surrounding community. They too are telling us that his loss is also their loss and that they too are sharing our pain."
Mrs Parkinson said she intended to remain in the country.
"Like David I love the country and its peoples. My family are keen to continue his legacy."
Lt Col Parkinson, who was made an OBE in 1998, served with the Parachute Regiment for 30 years from 1973 to 2003, according to his profile on the business networking site Linkedin.
After leaving the military, he spent five years as deputy director at the Lewa Wildlife Conservancy in Kenya.
The Duke of Cambridge spent part of his gap year at the reserve, before returning with the Duchess of Cambridge in 2005, and again in 2010 where he proposed to her. A spokesman for Prince William said he was saddened to learn of the death of Col Parkinson, whom he had met at the reserve.
He had been managing and developing Lolldaiga Hills, a 49,000-acre ranch and conservancy, since January.