Freddie Starr re-bailed by Operation Yewtree police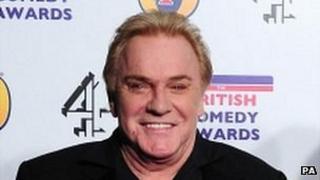 Entertainer Freddie Starr has been re-bailed until October by officers investigating alleged sexual offences.
He was first arrested in November 2012 by detectives from Operation Yewtree - the police inquiry set up following the Jimmy Savile abuse revelations.
The allegations against Starr, 70, fall under the strand of the investigation known as Savile and others.
When he was previously re-bailed in June, Starr's lawyer said he hoped to soon be able to clear his name.
He had been due to answer his bail this month.
The Metropolitan Police have not named the performer but said in a statement that a man in his 60s from Warwickshire had been arrested in November and "has now been re-bailed to return pending further inquiries".
Starr was re-arrested in April by Yewtree officers when further allegations against him - unconnected to Savile - emerged. He has denied any wrongdoing throughout.
Yewtree is an inquiry into allegations of historical sexual abuse linked to the entertainment industry.
It was launched after it emerged the late BBC Radio One DJ and television presenter Jimmy Savile had subjected hundreds of young people and children to sexual abuse over more than five decades.
The operation has three strands. One concerns Savile's crimes exclusively, while a second relates to allegations against Savile and others.
The third strand concentrates on accusations which emerged as a result of the publicity surrounding Savile but which are unconnected to him.
Starr, who lives in Warwickshire, has previously denied claims that he groped a girl of 14 while in a BBC dressing room with Savile.