Super Puma helicopters: What do offshore workers think?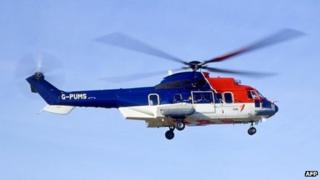 All Super Puma helicopter flights to UK oil installations remain temporarily suspended following a crash off Shetland in the North Sea on Friday that left four people dead.
So what are the views of some of those workers who travel in the helicopters to get to and from their jobs?
"I'm due offshore today but I'll be back in two weeks and I'm very scared about it," says Amy, who works in the same part of the oil industry as Sarah Darnley, 45, from Elgin - one of those who died in Friday's crash.
She says she will "personally refuse" to get into a Super Puma if they are reinstated and "will consider a job change if something is not done by the industry to address the issue of safety".
The Super Puma AS332 L2 had been carrying 16 passengers and two crew from the Borgsten Dolphin oil rig to Sumburgh airport in Shetland when the incident happened on Friday evening.
Along with Ms Darnley, Duncan Munro, 46, from Bishop Auckland, Gary McCrossan, 59, from Inverness, and George Allison, 57, from Winchester died. An investigation now under way has not yet established the cause of the crash.
"It´s a terrible loss," says Amy. "I only wish that they had grounded the Super Pumas when they had previous warnings."
Friday's crash was the fifth time in four years that Super Pumas have been involved in North Sea incidents, and another model - the Super Puma EC225 - was grounded following two emergencies in 2012. Those aircraft were only given the go-ahead to resume flying earlier this month.
Commenting on Friday's fatal crash, Super Puma manufacturer, Eurocopter, says: "At this point in time, limited technical information is available regarding the cause of this accident.
"Eurocopter's experts are in Aberdeen working closely with the investigation authorities to determine the cause."
'Safety concerns'
Other employees describe the cramped conditions of some Super Pumas.
"The EC225 is a flying death trap," says one oil worker who has been travelling offshore for 20 years and wants to remain anonymous.
"The internal seat layout means [those] in the back... are so close that your knees are interlocked with the passenger sitting opposite you.
"In an emergency it would be nigh-on impossible to get out of such a small space."
About 26,000 people, from technicians to catering staff, work for more than 100 nights a year offshore in the UK, according to Oil and Gas UK.
The number rises to more than 50,000 when others working offshore for a few nights a year are included.
Aviation experts argue the Super Puma has a relatively good safety record, having been service in the North Sea for some 30 years and with over 800 aircraft operating around the world.
Another unnamed oil worker, who accepts the helicopters are doing hundreds and hundreds of flights a day without any problems, goes on to say: "If a fixed-wing airplane had as many accidents as the Super Puma nobody would fly in it."
He says he will have his reservations about taking the helicopter again.
"Everyone who gets on tries to get a window seat in case of an emergency."
An oil worker from Fochabers in Moray, based on a platform near Shetland, agrees many workers have lost faith in the aircraft.
"The general feedback from the guys out here is that if they were asked to go on Super Puma helicopters they would certainly have doubts - to the point of refusing point blank.
"But you are then put between a rock and a hard place because if you don't go to work you can't support your family, pay your mortgage etc."
RMT union's Jake Molloy says: "There's certainly a groundswell of concern across the industry, but workers say they can't comment openly because of worries about their employment."
'Vastly improved' safety
The partner of someone who works on a rig west of Shetland says: "Morale regarding flights is at an all time low, with many people extremely nervous to fly."
But she says most of them are reluctant to speak out.
"The fact that workers are put in this position... where they feel speaking the truth about safety issues concerning transport to and from work may result in lost jobs, is an absolute disgrace."
However, Duncan Trapp from CHC - which operated the helicopter that crashed on Friday - says: "We understand the concerns and anger among the workforce and we are devastated by Friday's tragedy. It is too early to identify the cause of the accident.
"Any offshore worker should be assured that no helicopter operator and no pilot will fly unless they believe it is safe to do so. We do not and will not cut corners on safety."
The company also stresses that "significant work by those involved in safety" in the oil and gas industry has "vastly improved the safety of those travelling to offshore installations" in the last four years.
And a spokeswoman from Oil and Gas UK, representing the industry, says "questions and any concerns" should be flagged up to the Helicopter Safety Steering Group (HSS), which is now deciding whether to continue suspending Super Pumas.
"Helicopter safety remains a focus" for the industry, she adds.