Syria crisis: UK draws up contingency military plans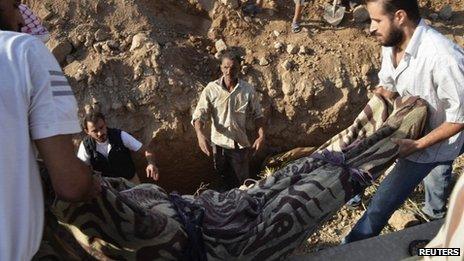 The UK is drawing up contingency plans for military action in response to the suspected chemical weapons attack in Syria, Downing Street has said.
No 10 stressed any action would be "proportionate", lawful and follow agreement with international allies.
David Cameron will also announce later whether Parliament is to be recalled, amid growing pressure from MPs.
A chemical attack is reported to have taken place on Wednesday near Damascus, killing more than 300 people.
Syrian rebels say the Assad government was responsible, but Syria's foreign minister Walid Moualem said on Tuesday this was a "total lie" and accused the US of using it as an "inaccurate excuse" to intervene in the two-year military conflict in the country.
Mr Cameron has returned to London, having cut short his summer holiday to deal with the crisis.
A No 10 spokesman said the UK was considering a "proportionate response" to the attack and was considering a "range of evidence" including that from UN weapons inspectors who visited five sites around Damascus on Monday.
But Downing Street stressed that no decisions had been taken on any response amid discussions with international partners and any action would be "within a strict legal framework" and "within international law".
Mr Cameron is to chair a meeting of the National Security Council - attended by military and intelligence chiefs and senior ministers - on Wednesday, while Deputy Prime Minister Nick Clegg has cancelled a visit to Afghanistan.
It is understood the most likely military response to Wednesday's suspected chemical weapons attack would be a one-off or limited guided missile strikes on Syrian military targets fired from US Navy warships.
The Labour Party and several Conservative MPs have insisted the prime minister must explain to Parliament the objectives and legal basis for any UK involvement or co-operation before it happens.
Although the Commons voted on UK military intervention in Iraq in 2003 and Libya in 2011, there is no legal obligation for the government to get parliamentary approval before committing British forces.
The prime minister has the final say on deploying British troops in conflicts, using Royal Prerogative powers.
Shadow foreign secretary Douglas Alexander said it was right to consider all options but he was "not prepared to write the government a blank cheque" with regards to committing British forces and MPs must be allowed to vote on any proposed steps.
"Is it a broad objective of changing the civil war or trying to remove (President) Bashar al-Assad or is it a more limited objective of trying to degrade his capability to use these weapons with impunity?" he asked.
Parliament is due to return from its summer recess on Monday but more than 60 MPs have signed a motion calling for a one-off session before that to discuss the crisis.
Former Liberal Democrat leader Sir Menzies Campbell said he did not believe the action being discussed would have much effect on the Assad government's military capability and would further strain relations with Russia, a key ally of Syria.
"Intervention in the Middle East in the past has not exactly been in our best interests," he told the BBC News Channel.
Mr Cameron spoke to a number of foreign leaders over the bank holiday weekend, including US President Barack Obama, Russian President Vladimir Putin and his French and German counterparts.
US Secretary of State John Kerry has said the use of chemical weapons is a "moral obscenity" which cannot be ignored but Russia has said there is no evidence an attack had taken place or who was responsible.
Moscow has warned any intervention without a UN mandate would be "a grave violation of international law".
The UN Security Council is made up of 15 states, including five permanent members - China, Russia, France, the US and the UK - who have the power to veto any resolution.
UK Foreign Secretary William Hague has told the BBC it would be possible for the UK and its allies to respond without the UN's unanimous backing.
Meanwhile, former Prime Minister Tony Blair has said enduring controversy over the decision to invade Iraq in 2003 should not stop politicians from helping the Syrian people.
01:15: 21 August (10:15 GMT 20 Aug): Facebook pages of Syrian opposition report heavy fighting in rebel-held eastern districts of the Ghouta, the agricultural belt around Damascus
02:45: Opposition posts Facebook report of "chemical shelling" in Ein Tarma area of the Ghouta
02:47: Second opposition report says chemical weapons used in Zamalka area of the Ghouta
Unverified video footage shows people being treated on pavements in the dark and in a makeshift hospital
Reports say chemical weapons were used in Ghouta towns of Irbin, Jobar, Zamalka and Ein Tarma as well as in Muadhamiya to the west, but this is not confirmed
Syrian government acknowledges military offensive in the Ghouta but denies chemical weapons use