Seaside piers at risk, campaigners warn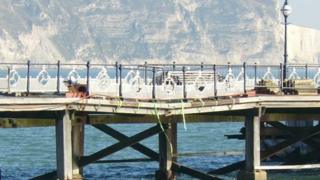 Some of Britain's oldest seaside piers are at risk from rising maintenance and insurance costs, campaigners have said.
Trade association Co-operatives UK said too many piers were "trapped in a cycle of neglectful ownership with only periodic attempts at conservation".
It said 56% of Britain's 58 piers were owned privately with 39% owned by councils.
Most could be better run by local people, social enterprises or charities, it said.
The BBC's Tom Esslemont said many piers around the British coast had their own unique stories to tell.
Some had been rebuilt after being destroyed by fire while others, ravaged by salt water corrosion, were costly to repair, he added.
He said people had already joined hands in Colwyn Bay, Clevedon and Herne Bay either to co-own their pier, to turn it into a charity or to try to secure funding.
Co-operatives UK's People's Piers report said the majority of piers were under threat from both corrosive sea-water and owners who failed to make provisions for maintenance costs and insurance - bills estimated at about £33m in total over the next five years.
It said piers remained as popular as ever, with six million people a year visiting them.
Report author Jess Steele said: "More people live by the seaside than live in Wales and 10% of our national heritage assets are within a mile of the sea."
She said that, while "seaside piers make us smile", negligent owners threatened their future,
"We believe that there is a new option, now being pioneered for Hastings Pier, which is to take piers into local community ownership."
Up to 95% of the East Sussex pier was burnt out in an October 2010 arson attack following years of neglect.
The Victorian pier has been returned to local ownership in advance of a £14m project to bring it back to its former glory.
The majority of funding has been provided by the Heritage Lottery Fund, with help from Hastings Borough Council, East Sussex County Council, the Community Assets Fund and the Coastal Communities Fund.
After the pier's owners failed to do anything to improve the structure and could not be contacted, Hastings Borough Council successfully applied for a compulsory purchase order so the pier could be handed over to the Hastings Pier Charity.
A spokesman said work would now begin to renovate the structure, refurbish the pavilion and build a new visitor centre.
The National Piers Society said many landmarks were already benefiting from a rise in availability of Heritage Lottery Fund money.
A revival in nostalgia for coastal attractions like penny arcades, Punch and Judy shows and promenades was also helping piers to thrive again, it added.
The society's president, Professor Gavin Henderson said that among Britain's piers, a handful were in tip-top condition and a handful were falling down, and "there's a whole lot in the middle that could do with a lot more maintenance, that are holding on for dear life".
Birnbeck Pier in Weston-super-Mare was in the most serious state, he added, in stark contrast with its neighbour, the "superbly rebuilt" Grand Pier.
Michelle Michael, who owns Weston's Grand Pier which was badly damaged by fire in 2008, told the BBC's Today programme she had wanted it to be future-proof.
The pier now mixed traditional elements such as dodgems, a ghost train and candy-floss with an end-of-pier a la carte tearoom and space for weddings, which provided a staple income, she said.
"They are very expensive to maintain. I can only describe it as having to maintain the foundations of your home every single year - it's a huge cost," she added.
Communities Secretary Eric Pickles said he would "encourage seaside communities to nominate the piers they care about with their local councils as a first step to securing their future".