David Miranda row: New law 'needed to protect secrets'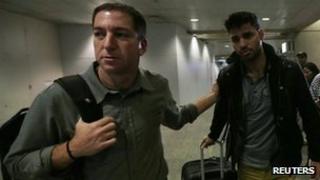 Anti-terror laws should be strengthened to prevent leaks of official secrets, former Metropolitan Police Commissioner Lord Blair has told the BBC.
He was speaking after police seized what they said were thousands of classified documents from David Miranda - the partner of a Guardian journalist.
Lord Blair said publication of such material could put lives at risk.
He suggested new laws were needed to cover those who obtained secret material without proper authority.
The Home Office has defended the use of anti-terror laws to question Mr Miranda, but some have criticised the tactics.
Mr Miranda is the partner of Glenn Greenwald, who has been reporting on US and British surveillance programmes revealed by US whistle-blower Edward Snowden.
He was held for nine hours at Heathrow Airport on 18 August and had his mobile phone, laptop, DVDs and other items seized.
Brazilian national Mr Miranda, 28, was detained under schedule 7 of the Terrorism Act 2000 as he travelled from Berlin to Rio de Janeiro, where he lives with Mr Greenwald.
The law allows police to hold someone for up to nine hours for questioning about whether they have been involved with acts of terrorism.
Lord Blair told BBC Radio 4's Broadcasting House programme: "The state has to have secrets - that's how it operates against terrorists.
"It has to have the right to preserve those secrets and we have to have a law that covers a situation when somebody, for all sorts of wonderfully principled reasons, wishes to disclose those secrets.
"It just is something that is extremely dangerous for individual citizens to [make] those secrets available to the terrorists."
Lord Blair said the threat from international terrorism was "constantly changing" and there was a need to "review the law".
He said there was a "new threat which is not of somebody personally intending to aid terrorism, but of conduct which is likely to or capable of facilitating terrorism" - citing the examples of information leaks related to Bradley Manning and the Wikileaks website.
When asked if he was calling for new laws, Lord Blair said he wanted that to be considered.
"Most of the legislation about state secrets is in the Official Secrets Act and it only concerns an official.
"I think there is going to have to be a look at what happens when somebody possesses material which is secret without having authority."
But Sir Geoffrey Bindman, a human rights solicitor whose firm is representing Mr Miranda, said: "We are in a situation in this country where the rule of law is steadily being eroded by a number of different measures that have to be looked at together."
He cited legal aid cuts as an example of factors which make it harder for individuals to challenge authorities.
Police state fears
"If you present the picture of serious terror threats - which undoubtedly exist - then that can be used wrongly to justify abuses, to justify over-doing the erosion of individual rights."
Hamid Sabi, a lawyer who fled Iran following the country's Islamic revolution of 1979, said it was "important to be concerned" but said suggestions the UK was being transformed into a police state was "too far".
But Guardian editor Alan Rusbridger has said: "The state that is building such a formidable apparatus of surveillance will do its best to prevent journalists from reporting on it."
Last week Home Secretary Theresa May defended the police's use of anti-terror laws to hold and question Mr Miranda saying it "was right" if they thought he was holding information useful to terrorists.
However, former Lord Chancellor Lord Falconer - who helped to bring in the anti-terror legislation - said it was not what the powers were meant for.