Lifeboat rescuers record busiest July since 2006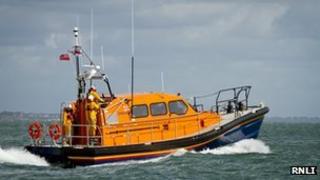 Lifeboat rescuers recorded their busiest July since 2006, with call-outs up by more than a third compared to last year.
The RNLI said 1,639 rescue launches were made last month - up from 1,201 in July 2012.
The charity said the rise was "most likely" due to the good weather, and warned people to take extra care.
It comes after several people drowned in the sea, rivers and lakes around the UK this summer.
July was the third warmest on record in the UK, according to the Met Office, whose records go back to 1910.
A maximum temperature of 28C was recorded at one or more locations for 19 consecutive days during July.
The Met Office said it was the most significant heatwave since July 2006 - which stands as the hottest month on record in the UK, with a peak temperature of 36.5C recorded in Wisley, Surrey.
Rip currents
The RNLI rescued 50 people in a single day from rip currents in Cornwall on 24 July.
The previous day, the RNLI was called out to help 15 swimmers and body boarders who were swept out to sea at Perranporth, Cornwall.
The charity advises people visiting Cornish beaches to speak to lifeguards and local surfers to find out more about local conditions, as many beaches have dangerous rips.
Elsewhere, a major rescue operation was sparked off the Isle of Wight by a man who was set adrift in a child's inflatable dinghy.
The 25-year-old man was spotted in the Solent by members of the public and had been adrift near the busy shipping route for more than an hour. He was rescued by the combined forces of the RNLI, Hampshire police and an auxiliary coastguard crew.
In Northern Ireland, a family of six was rescued by lifeguards after getting into difficulties in the sea at Castlerock, Country Londonderry.
Chris Adams, coastal safety manager for the RNLI, said there were usually more rescues in the summer, though incidents in winter weather were often more dangerous.
'Challenging' conditions
Mr Adams said the RNLI was piloting a campaign called Respect the Water, and encouraged anyone swimming in the sea to do so at beaches with lifeguards, and to check safety tips on the organisation's website.
"It's not the same as swimming in a pool; it's cold and the environment is naturally more challenging," he said.
"Even the strongest swimmer will struggle with a strong current going against them."
The majority of RNLI lifeboat crew members are volunteers, but some are full-time staff.