Coastal wildlife species 'at risk due to climate change'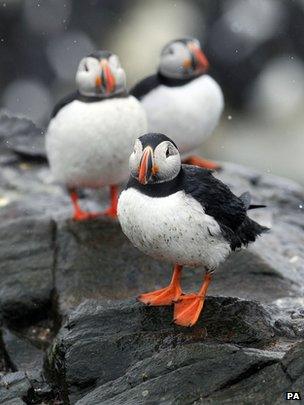 UK coastal species such as puffins and little terns could be "seriously affected" by erosion and climate change, the National Trust has said.
It has published a list of six species in a bid to highlight how wildlife might fare over the next few decades.
While triggerfish numbers are rising, species such as puffins are at risk due to factors like unpredictable weather.
The trust said climate change was set to cause more of a "bust than boom".
According to the organisation, the UK coastline is already being affected by rising sea levels, with projections suggesting seas could be half a metre higher than at present by 2100.
Matthew Oates, wildlife specialist for the National Trust, said: "Climate change could change the face of our coastal flora and fauna. With rising sea levels, our rich mud flats could simply disappear.
"Wildlife which relies on the gradual erosion of soft rock cliffs or lives on loose sand and shingle habitats could be caught out by an increasingly mobile landscape as a result of extreme weather.
"We are likely to see the boom and bust of more specialist plants and animals, as they suffer from increased flooding, salt deposition or drought stress. Unfortunately there may be more bust than boom."
The trust published its list of "six canaries in the mine" - a reference to the birds sent down mines to reveal the presence of dangerous gases - in a bid to show how plants, animals and humans would have to live alongside "an increasing rate of environmental change".
It said species such as little terns, which nest in colonies on sand and shingle beaches just above the high tide line, were vulnerable to exceptional high tides and summer storms.
Puffins, whose main prey was the sand eel, have turned to eating snake pipefish as a result of overfishing and warming seas.
Bad weather and a shortage of food hit burrow-nesting puffins in March when dozens of the seabirds were washed up along the coast of north-east England and Scotland.
However, in July, a census on the Farne Islands off the coast of Northumberland showed there had been an 8% increase in the number of the birds from the last count in 2008.
As well as seabirds, plants, fish and insects could also be affected, according to the report.
Oysterplants, which grow in exposed shingle beaches, could be washed away completely as unpredictable weather and extreme storms become more common, the National Trust said.
Glanville fritillary butterflies, which were once found as far north as Lincolnshire, are now restricted to coastal landslips in the Isle of Wight.
However, as sea temperatures rise, new species are also entering the UK's seas, suggesting there are likely to be winners as well as losers.
Triggerfish, a species normally found in warmer waters, have begun to turn up off the coast of North Wales - a sign of what climate change could bring.
Related Internet Links
The BBC is not responsible for the content of external sites.