New rules for police custody of teenagers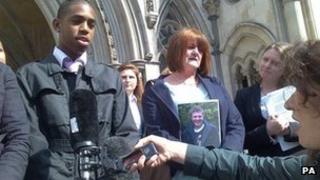 Extra protection for 17-year-olds in police custody will be put in place by the end of October, the Home Office has said.
Ministers have proposed that parents or guardians must be informed about a 17-year-old's detention and an "appropriate adult" must be contacted.
It comes after a teenager successfully challenged the law which treats those aged over 17 as adults.
The High Court ruled the policy was "incompatible" with human rights law.
Strip-searched
The case was brought in April by Hughes Cousins-Chang, who had been kept in custody for 12 hours and strip-searched before being released on police bail.
He was arrested four weeks after his 17th birthday on 19 April last year on suspicion of the robbery of a mobile phone.
His mother, Carrlean Chang, was not aware of his arrest for more than four hours, after the police had denied his request for her to be contacted.
When she did arrive at London's Battersea Police Station, she was not allowed to speak to her son.
The teenager, from Tulse Hill in south London, was informed by letter a month after his arrest and subsequent release that his bail would be cancelled. He was not charged.
Petition delivered
Judges declared that current policy - contained in a police code of conduct - is unlawful and ordered Home Secretary Theresa May to revise it.
Under current laws police are allowed to treat 17-year-olds as adults, while those aged 16 or under are given access to their parents or an appropriate adult.
A Home Office spokesman said: "We have issued interim guidance to all chief constables, advising them that 17-year-olds in custody must be offered the assistance of an appropriate adult, and we are now in the process of revising the law by consulting on revisions to the Pace Codes of Practice."
The revisions follow the deaths of two 17-year-olds who killed themselves after getting into trouble with police.
Joe Lawton, of Stockport, and Edward Thornber of Didsbury, both Greater Manchester, had been arrested without their parents' knowledge.
In March, their families delivered a petition to Downing Street containing more than 52,000 signatures, urging the government to address the "anomaly".