Been away? The news you might have missed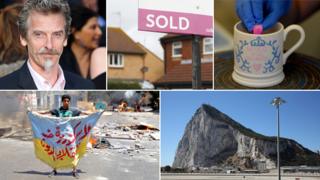 Some of the biggest stories of the summer, summarised for holidaymakers who switched off their news consumption while away.
Syria 'chemical' attack
Alleged chemical weapons attacks on the outskirts of the Syrian capital, Damascus, brought the prospect of military strikes by Western powers closer than ever. Unverified video showed people being treated on pavements in the dark and in a makeshift hospital. The medical charity Medecins Sans Frontieres said hospitals it supports had treated about 3,600 patients with "neurotoxic symptoms", of whom 355 had died. The US government later said more than 1,400 people were killed, including 426 children.
The US, UK and France suspect the attacks were the work of Syrian leader Bashar al-Assad's forces, but the Syrian government has denied this. Its officials suggest the attacks were the work of rebel fighters, encouraged by Western powers. The debate has taken place in the shadow of US President Barack Obama's statement last year that the use of chemical agents in the Syria conflict would be a "red line".
A UN team of chemical weapons inspectors went to Syria to gather evidence to determine whether the attacks had taken place. They left on Saturday and are now analysing samples. But Britain has already opted out of any potential military strikes after Prime Minister David Cameron sought the backing of Parliament. Cameron recalled MPs for a debate but lost the subsequent vote. In a surprise move, President Obama pledged to seek the will of Congress by putting the matter to a vote.
Meanwhile, the exodus of Syrians from their country continues, with the UN announcing in late August that child refugees now totalled one million. BBC News took an in-depth look at the plight of those escaping, with an interactive page on Zaatari refugee camp in Jordan.
Read more about the Syria conflict
Egypt's deadly crackdowns
In Egypt, hundreds of supporters of the ousted Islamist President, Mohammed Morsi, were killed as their protest camps in Cairo were cleared by security forces in mid-August. Mr Morsi's Muslim Brotherhood disputed the official death toll, insisting it was more than 2,000. As a result of the crackdown, the government declared a month-long state of emergency, with curfews every evening at 19:00. Vice-President Mohammed ElBaradei resigned from the government in the wake of the army's strong-arm tactics.
With Mr Morsi in custody, and due to face trial on charges of inciting murder dating from last December, security forces also arrested the Brotherhood's most senior leader, Mohammed Badie. The crackdown came three weeks after another protest in Cairo, in late July, left scores of protesters dead. Dozens of security personnel also died.
Elsewhere in the Middle East the first direct Israeli-Palestinian peace talks in three years took place in Jerusalem.
Read more about the crisis in Egypt
Guardian detention
The detention of the partner of Guardian journalist Glen Greenwald, who has written extensively about state surveillance, sparked a row over the use of UK anti-terror laws. David Miranda had been en route from Berlin to the Rio de Janeiro home he shares with Mr Greenwald, when police held him at Heathrow airport for nine hours on 18 August, seizing his laptop and mobile phone.
Former Lord Chancellor Lord Falconer said police should not have used the powers unless they thought Mr Miranda might himself be a terrorist. But Home Secretary Theresa May said they had been right to act if they merely thought he was holding information useful to terrorists.
Mr Miranda launched a judicial review of his treatment. The source of many of Mr Greenwald's recent stories, ex-US intelligence contractor Edward Snowden, was granted temporary asylum in Russia.
Gibraltar row
A dispute over fishing rights in the waters around Gibraltar escalated as the Spanish authorities ramped up checks at the border to the British overseas territory, causing lengthy delays. Spain, which disputes the UK's right to the land and the marine resources accompanying it, complained that Gibraltar's decision to construct an artificial reef would hamper the work of its fishing fleets.
It also proposed the idea of imposing a 50 euro fee on all vehicles crossing its border with Gibraltar. But the UK government said it was considering legal action to curb Spain's "disproportionate" actions.
Leaders' summers
Prime Minister David Cameron's relatively smooth summer met a bumpy end in late August after his defeat in Parliament over plans to attack Syria. Earlier in the month, Mr Cameron escaped the Westminster hothouse for a family holiday in the cooler climes of the Scottish island of Jura, But he suffered a "phenomenally bad back".
In late July, the prime minister's deputy, Lib Dem leader Nick Clegg, distanced his party from a Home Office scheme to send vans around London to encourage illegal immigrants to "go home".
Labour leader Ed Miliband endured some grumbling in the ranks, as his MPs variously urged the party to "shout louder" and end its "deafening silence" under his leadership. When Mr Miliband did hit the headlines, it was for being egged in a south London market.
Royal baby
Even those who headed off to a remote desert island can't have failed to have heard about the birth of a royal baby, on 22 July, to the Duke and Duchess of Cambridge. The first official photographs of Prince George were released almost a month later. The baby - who is third in line to the throne in the UK - was pictured with his parents and their black cocker spaniel, Lupo.
The pictures were taken by the duchess's father, Michael Middleton, in the garden of their family home in Bucklebury, Berkshire.
Read more about the royal baby
House price rises
The rate of house price inflation in the UK continued to rise, according to figures released in the middle of August, with ministers attributing the news partly to their "help to buy" scheme, which provides mortgage guarantees. Communities Minister Brandon Lewis argued the scheme would help first-time buyers and increase housing supply by boosting the confidence of construction companies.
But the Institute of Directors said it was "very dangerous". The body's chief economist explained: "Government guarantees will not increase the supply of homes, but they will drive up prices at a time when it seems likely that house prices are already over-valued."
Transport tragedies
Spain mourned its worst train accident for 40 years after 79 people were killed and many more injured in a derailment in the north-west of the country in late July. A passenger train travelling on the express route between Madrid and the ship-building city of Ferrol on the Galician coast derailed as it rounded a bend near to Santiago de Compostela. The investigation into the cause of the crash continues.
And 38 people were killed in southern Italy, also in late July, as a coach plunged off a flyover and tumbled down a steep slope. The coach was carrying about 50 people, including children, back to Naples following a pilgrimage.
Peru drug arrests
Two women from the UK held were charged with trying to smuggle £1.5m worth of cocaine out of Peru in mid-August. Michaella McCollum, of Dungannon in Northern Ireland, and Melissa Reid, of Lenzie near Glasgow, were stopped when they tried to board a flight from Lima airport to Madrid.
Police said they had found more than 24lb (11kg) of cocaine in food packaging in the women's luggage. The pair, who face a maximum term of 15 years in prison if convicted, deny the charges, claiming they were forced to carry the cocaine by a gang in Ibiza.
Zanzibar acid attack
Two British women were injured in an acid attack on the Tanzanian island of Zanzibar in early August. Kirstie Trup and Katie Gee, both 18 and from north London, suffered chemical burns to their faces, chests and hands, and were flown back to London for treatment. The pair had been working as volunteer teachers.
Zanzibar police have yet to establish a motive, but offered a £4,000 reward for information leading to the capture of the attackers.
Wikileaks sentencing
The US soldier convicted of handing thousands of secret government documents to anti-secrecy website Wikileaks was sentenced to 35 years in prison on 21 August. Pte First Class Bradley Manning, 25, had been convicted of 20 charges, including espionage. The prosecutor argued that the soldier had betrayed the nation's flag, but Pte Manning claimed to have acted "out of love for our country".
The convicted soldier subsequently announced an intention to live as a woman and asked to be addressed as Chelsea Manning.
Online abuse
Social media site Twitter came under fire after a string of prominent female users were bombarded with anonymous abuse. A campaigner and an MP were threatened with rape while a number of journalists were told bombs would destroy their homes. The boss of Twitter UK apologised to the women and pledged to do more to tackle abusive behaviour.
Another social media site, Ask.fm, was also urged to clamp down on abuse after the suicide of a 14-year-old user. The girl's father said he had found posts on her profile page telling her to die.
Gay rights and Russia
Campaigners, led by British broadcaster Stephen Fry, called for a boycott of the 2014 Winter Olympics, after host country Russia passed new laws banning gay "propaganda" among juveniles. In an open letter, Mr Fry said Russia was "making scapegoats of gay people", with police ignoring violent homophobic attacks in the country.
Meanwhile, Pope Francis signalled a shift from his predecessor's stance on homosexuality with the words: "If a person is gay and seeks God and has good will, who am I to judge?"
A new Doctor Who
Weeks of speculation among fans of the long-running BBC science fiction series Doctor Who ended as Peter Capaldi, 55, was announced as the 12th occupant of the Tardis in early August. The Glasgow-born actor is best known for his role as foul-mouthed spin-doctor Malcolm Tucker in BBC political comedy The Thick of It.
"I was shocked and overjoyed because he is a properly good actor," said Dr Keith Johnston, a senior lecturer in film and television at the University of East Anglia. But writer and broadcaster Mark Lawson wondered whether Capaldi's affinity for sinister roles might have made him a "more natural casting for the Time Lord's nemesis, the Master".
'Bongo Bongo Land'
UK Independence Party MEP Godfrey Bloom provoked controversy by referring to the recipient countries of UK international development aid as "Bongo Bongo Land". Anti-racism campaigner Laura Pidcock accused him of promoting "crude stereotypes that see Britain as a civilised place and overseas as tribal". An unrepentant Mr Bloom took to the airwaves to defend his comments, saying it was "absurd" and "ridiculous" to label them racist.
But after party leader Nigel Farage said his choice of language had been "wrong", Mr Bloom declared he "sincerely regretted" any offence caused.
Deaths
Broadcaster and writer Sir David Frost died after a heart attack while on board a cruise ship. He was 74. Sir David had been a cornerstone of the British media for half a century - first coming to prominence in the satirical BBC TV show That Was The Week That Was, in 1962. His interview with disgraced US president Richard Nixon, three years after Nixon resigned from the White House, was seen by many as his crowning achievement. Frost brought Nixon close to apologising for his role in the Watergate scandal.
Among others who died over the summer were: