Newspaper review: Outrage over Syria 'gas' attacks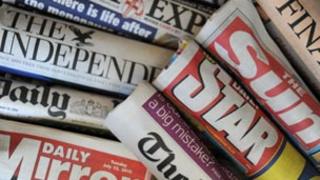 The alleged sarin gas attack in Damascus is the lead for many of the papers.
The main picture in the Times and the Guardian shows a man kneeling among corpses laid out in shrouds, mourning over a baby.
Experts tell the paper the video footage "feels very authentic" and is the strongest evidence yet of the use of chemical weapons.
The Times headline talks of "an act of barbarism". "Now they're gassing children," says the Daily Mirror, alongside a particularly harrowing picture of a line of small children who look as if they are asleep. The Independent asks is this Syria's "darkest day yet"?
Civil matter
The BBC was responsible for more than one in 10 criminal prosecutions last year, according to the lead in the Daily Telegraph.
Some 3,500 thousand people a week appeared before magistrates accused of watching television without a valid licence.
The paper says that, while BBC services remain popular with millions of viewers and radio listeners, there is mounting anger over the cost of the licence measured against financial waste at the corporation.
And it says there are growing calls for non-payment of the licence to be treated as a civil matter - like non-payment of utility bills and parking fines - in order to free up the criminal courts for more serious business.
Several papers report that the City regulator is about to announce a plan under which 16 financial institutions will be told to compensate consumers who were mis-sold protection for identity theft and credit card fraud which they did not need.
The Financial Times says banks and credit card issuers are facing a bill of about £1.3bn.
Sex change
According to the Daily Mirror, 20 former inmates of a borstal in County Durham which closed in the late 1980s are now helping detectives investigating claims that boys sent there were abused.
A former prison officer and a storeman from the Medomsley Detention Centre were jailed in 2003 but former inmates have insisted they were not acting alone.
The paper says hundreds of inmates were raped or sexually abused in the 1970s and 80s.
A source close to the investigation tells the paper that the police now have a dedicated team looking into the allegations.
The Sun has an interview with a former convict who was given a £22,000 sex change operation while in prison serving 11 years for a string of burglaries.
Jasmine Goode, previously a man called Darren, tells the paper the NHS was "very generous" and "it's not wrong I was given help."
There is a picture of a dolphin in the water in several of the papers. What makes it unusual is that the water in question is the River Dee in Chester.
Marine experts say it is a common dolphin, more normally at home in the Bay of Biscay. They think it probably lost its way while chasing fish.