Chief of defence staff warns of military expectations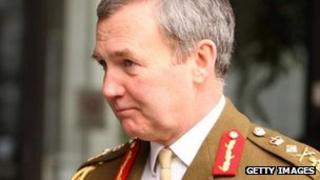 The new chief of the defence staff has said the armed forces will have to "recalibrate" their expectations after exiting Afghanistan.
General Sir Nick Houghton said they must prepare to tackle new operations from a "standing start".
In an interview for Defence Focus magazine he said the biggest challenge following army cuts was to shape the Reserve Forces.
Labour said the forces are relying on a reserves plan "in complete crisis".
'Cynical and detached'
Gen Houghton said: "Defence has quite rightly focused on Afghanistan in recent years but getting back to a contingent posture that offers genuine political choices for the dangerous and uncertain world we face is now a clear priority."
He continued: "We have to recalibrate our expectation of the level of capabilities we can field on new operations from a standing start.
"We've got to get back into an 'expeditionary mindset' where we will not have perfect capability for every scenario."
Though the drawdown from Afghanistan is under way, and all combat forces are due to leave that country by the end of 2014, Gen Houghton would not be drawn on Syria.
"As it stands, no decisions have been made on our involvement in Syria," he said.
"It is, nevertheless, the duty of the Ministry of Defence to provide options for the use of military force in scenarios such as Syria, and military advice on the utility of those options."
The Yorkshireman replaced General Sir David Richards as chief of the defence staff in mid-July, at a time when the MoD is still making regular soldiers redundant while trying to increase the number of reserves.
The general said he planned to be "honest, straight talking and supportive" to those working in defence in times he described as "quite difficult for many of them".
He said there was scope for better internal and external communications - and the MoD had "risked people becoming cynical and detached from what defence was trying to do".
He also talked of the need to cut down on bureaucracy and change the culture within defence.
'Under-powered'
Gen Houghton said the forces were still in the "early days" of restructuring after budget cuts.
"We have made all the big decisions", he said. "But there is still an awful lot to do".
He said the biggest challenge was implementing the Reserve Forces proposition so that it balanced the needs of reservists with their families and employers.
"If we can deliver that proposition then the challenge of recruiting, for example 30,000 reservists for the Army Reserve, should, by historic standards, be a relatively easy one."
Shadow Defence Secretary Jim Murphy said a smaller force "can be smarter", but the government's policy had left personnel feeling "under-powered and under-valued".
He said: "Rather than strategically remodelling our forces for a post-Afghanistan, post-crash, rapidly-evolving security landscape, the government have simply shed capacity.
"Army strength and numbers rely on a reserves plan in complete crisis, which could severely limit our ability to respond to and shape world events."
But a spokesman for the MoD said the UK continued to have a world-class fighting force.
He said: "Since 2010, the MoD has balanced its budget for the first time in a generation and this year published the first 10-year equipment plan, which will see around £160 billion invested."