Are you plagued by litter?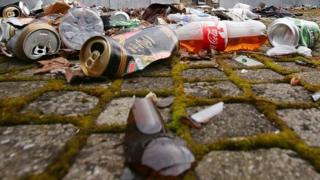 Litter and fly-tipping bother us more than almost any other issue. MPs get more letters complaining about litter and dog fouling than almost anything else.
The amount of litter we drop - seven-tenths of it food related - is five times greater today than it was in the 1960s. Street cleaning is costing taxpayers almost a billion pounds a year in England - money that could be put to much better use.
Most of this litter lasts. Plastic bags take up to 20 years to degrade. Orange and banana peels can take a couple of years. Plastic and glass may last forever.
Are litter louts ruining your neighbourhood? Do your children have to walk to school past dog mess? Is fly-tipped waste being dumped near you?
We are investigating the state of our towns and countryside and want to find the UK's dirtiest streets and areas. If you have photos or video of a litter eyesore then send them along with the details and name of the location.