Peru drug-charge pair refused bail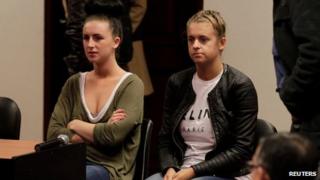 Two women from the UK held on drug smuggling charges in Peru have been remanded in custody by a court.
Michaella McCollum, of Dungannon in Northern Ireland, and Melissa Reid, of Lenzie near Glasgow, who were refused bail by a judge in Callao, face a maximum term of 15 years if convicted.
They are accused of trying to take cocaine with a street value of £1.5m out of the country.
Ms McCollum's lawyer Peter Madden said both women would plead not guilty.
Mr Madden said it was a worrying time for the two women, who he said were effectively beginning to serve a prison sentence.
"Their main concern at the moment is that they may be separated, they may be sent to different prisons and they are both very concerned that that might happen," he said.
"They didn't know each other before all this started, they've now become best friends."
'Full glare'
The women, both 20, have spent the last two weeks in custody at a police station in Lima over the drug trafficking allegations.
They were taken from their holding cells on Tuesday and transferred by police escort to the neighbouring province of Callao, which has jurisdiction over their case.
The women were given a brief medical examination before being taken to the public prosecutor's office where they gave full statements.
They were then transferred to Callao's Justice Building where they were charged with drug trafficking and later appeared in court.
The BBC's Will Grant, in Peru, said the charges came several hours later than expected.
"The charges came at the end of a difficult day for the two, who had spent two weeks inside a police cell in Lima without charge," he said.
"When the women were eventually moved to the courthouse in Callao, it was under the full glare of the local and international media."
"Neither of the women speak any Spanish and the convoluted legal system in Peru is often complex for those well versed in the law," our correspondent said.
"However, at least in the short term, it is a situation they are going to have to adapt to as the Peruvian authorities are likely to take several months before the trial reaches court."
'Pretty grim'
Meanwhile, Mr Madden criticised the conditions the women were being kept in, saying they had not been fed all day on Tuesday.
He said Ms McCollum's brother Keith had not been allowed to see her, although the lawyer and an accompanying priest had.
Mr Madden said: "The conditions inside the holding cells are pretty grim.
"They are expected to lie on the floor, there's a sort of a sponge-type bed which is just not acceptable. There are no blankets - it's not clean.
"And the most important thing is they haven't actually been offered any food today and it doesn't look as though they are going to be."
Ms McCollum and Ms Reid are accused of trying to smuggle 11kg (24lb) of cocaine out of Peru in food packages in their luggage.
The pair were stopped while trying to board a flight to Madrid two weeks ago at Lima airport.
Both women say they were forcibly recruited as drug mules by an armed gang while working in bars on the Spanish island of Ibiza, and travelled to Peru under duress.
Drug trafficking in Peru carries an average sentence of eight to nine years in prison, but there are harsher sentences for being part of a criminal organisation.