Operation Elveden: Eight people charged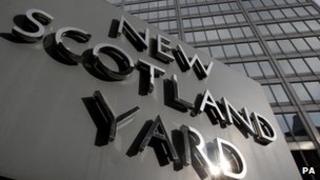 Eight people, including the former managing editor of the Sun, have been charged in a probe into the alleged selling of information to newspapers.
It is alleged Graham Dudman authorised payments to public officials.
Former Daily Mirror journalist Grieg Box Turnbull faces charges for allegedly paying prison officer Grant Pizzey for information on inmates.
Two further Sun journalists, a police officer and a second former prison officer have also been charged.
And Mr Pizzey's partner Desra Reilly has been charged.
The charges arise from Operation Elveden, the Metropolitan Police's investigation into allegations involving the unlawful provision of information by public officials to journalists.
Mr Dudman, 50, of Brentwood, Essex, is now an executive at News UK. He has been charged with three counts of conspiracy to commit misconduct in public office.
Alleged payments
It is alleged that in September 2002 he requested the authorisation of payments of £3,000 to one or more police officers in exchange for information relating to ongoing police investigations.
It is also claimed that between June 2002 and December 2007, Mr Dudman authorised payments to public officials relating to the health of a Broadmoor patient, details of an incident at a hospital and details of an incident relating to army combat.
It is further alleged that he approved a payment requested by John Troup, a former journalist at the Sun, for information relating to the death of a prison inmate.
Mr Troup, 47, of Saffron Walden, Essex, has been charged as a co-conspirator.
Mr Pizzey, 47, and Ms Reilly, 51, both from Eltham, south London, are alleged to have received almost £20,000 from Mr Box Turnbull for over 40 pieces of information about incidents that took place at HMP Belmarsh, where Mr Pizzey worked.
Mr Box Turnbull, 38, of Morden, Surrey, is also alleged to have paid 38-year-old Marc Alexander, of Port Talbot in south Wales, £2,700 for information on inmates at HMP Holloway where he worked.
Mr Box Turnbull faces two charges of conspiracy to commit misconduct in public office, with Mr Pizzey, Ms Reilly and Mr Alexander charged as co-conspirators.
The CPS said it would not be be bringing charges based on allegations against a member of the public included in the same file because of insufficient evidence.
Broadmoor patients
A Trinity Mirror spokesman said: "We note that former Daily Mirror journalist Greig Box Turnbull has been charged as part of Operation Elveden - the investigation into alleged payments to public officials.
"We continue to co-operate with the police and further updates will be made if there are any significant developments."
A further Sun journalist, 38-year-old Vince Soodin, from Greenwich, south-east London, is alleged to have paid £500 to a police officer for information, including contact details for witnesses in police investigations.
He has been charged with conspiring with a police officer to commit misconduct in public office.
A former officer with the Wiltshire police force, Darren Jennings, 40, of Harnham, Salisbury, has been charged with misconduct in public office.
It is alleged he provided information to the Sun in relation to a police officer who was facing criminal proceedings, and sought payment of £10,000 in exchange for personal background information about the officer.
All eight will appear before London's Westminster Magistrates' Court on 5 September.
In addition, the CPS has authorised the charging of a ninth man, Alan Ostler - a former assistant technical instructor at the high-security psychiatric hospital Broadmoor - with committing misconduct in public office.
It is alleged he provided information to journalists at the Sun and the Daily Mirror, receiving a £900 payment from the Mirror for information relating to patients.