Adoptions in England and Wales rose 9.8% in 2012, says ONS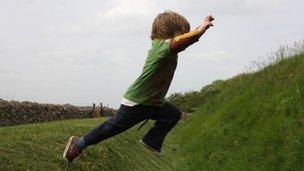 There was a 9.8% increase in the number of adoptions in England and Wales in 2012, according to official figures.
A total of 5,206 children were adopted, compared with 4,740 in 2011, the Office for National Statistics (ONS) said.
This represents the largest annual rise in the 15-year period during which equivalent figures have been collated.
The increase "could be a consequence of the recent drive to improve the adoptions process in England and in Wales," the ONS said.
The figures apply to adoptions by relatives and step-parents as well as adoptions from care.
They show that 63% of children adopted in 2012 were aged between one and four years, up slightly from 62% in 2011. In 1998, the figure was just 34%.
The percentage of children adopted who were born outside marriage also increased slightly to 85% in 2012 from 82%.
Preliminary figures show that the number of adoptions in Scotland remained steady between 2011 and 2012 at just under 500. Comparable figures for Northern Ireland are not yet available.
Last year, the Department for Education said: "Adoption can be a lifeline for vulnerable children and we are determined to see more children considered for adoption, particularly those who may previously have been overlooked.
"We are committed to overhauling the entire adoption system to give more vulnerable children the chance of a loving, stable home with adoptive parents.
"That's why we are changing the law and calling for urgent action - both from local authorities and from potential adopters - to reduce barriers and delay in the adoption process."
Related Internet Links
The BBC is not responsible for the content of external sites.