UKIP chief executive Will Gilpin leaves job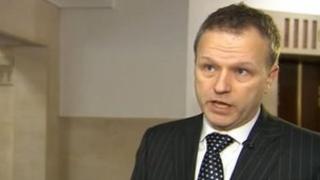 The chief executive of UKIP has left his post by "mutual agreement".
A spokesman for the UK Independence Party said Will Gilpin's rolling contract would not be continued.
Mr Gilpin, a former RAF fighter pilot, was appointed in December last year and asked to professionalise the party's behind the scenes set-up.
Sources within the party said Mr Gilpin hoped to return to corporate IT, something one source said "he is far better suited to".
The source suggested Mr Gilpin was not well suited to working for a small organisation whose "DNA is individualistic" and which relies on numerous volunteers.
But the source added there was no bad blood between Mr Gilpin and the party, and he may well attend the party's conference in London next month as an ordinary party member.
A UKIP spokesman told the BBC: "We thank him for his time, effort and the hard work he has put in and wish him all the best for the future."
'Herding cats'
When Mr Gilpin was appointed, he told the BBC his job was to "deal with the inertia of a party that is used to doing things in a very relaxed, very unco-ordinated manner".
According to his LinkedIn page, he worked in IT on behalf of the Home Office and the Metropolitan Police in the past, after 10 years flying Tornado aircraft for the RAF.
It is not known how much Mr Gilpin was earning in his role, or when the process of finding a successor will begin.
BBC political correspondent Chris Mason said UKIP saw itself as a party of individuals, but that meant the job awaiting any new chief executive would be "something akin to herding cats".
Last week, UKIP's treasurer Stuart Wheeler made headlines after he said women were "nowhere near as good as men" at games like chess, bridge and poker.
Mr Wheeler said he had been explaining why companies should not be forced to appoint more women to their boards.
And the week before, party MEP Godfrey Bloom caused anger by saying British aid was being sent to "Bongo Bongo Land".