EU team to monitor Gibraltar border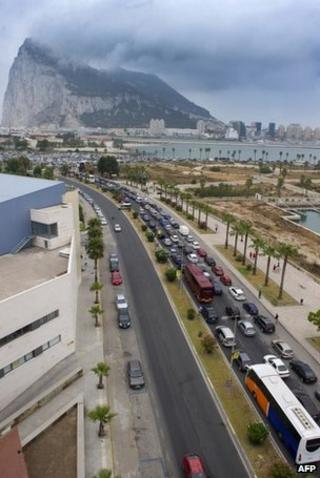 The European Commission is to send a fact-finding mission to Gibraltar to investigate controls at the border.
It follows tensions between Spain and the UK over extra border checks on the Spanish side, which have caused lengthy traffic delays.
Britain says the checks break EU free movement rules, but Spain says Gibraltar has not controlled smuggling.
The team of EU observers is expected to be despatched "as soon as possible" to assess the legality of the checks.
A row has erupted between Spain and Britain in recent weeks following the installation of an artificial reef by Gibraltar in the waters off the British territory.
The Spanish government has accused Gibraltar of creating the reef, which consists of 70 concrete blocks, "without the necessary authorisation" in "waters that are not theirs".
But Gibraltar has said it was trying to encourage sea-life to flourish.
In response, Spain has imposed tougher checks at the border in recent weeks, which it says are necessary to tackle tobacco smuggling.
This has led Britain to accuse Spain of breaking EU free movement rules.
'Politically motivated'
Spanish Prime Minister Mariano Rajoy agreed to allow an EU fact-finding mission during a phone call with EU Commission President Jose Manuel Barroso.
In a statement, the European Commission said: "They agreed that a commission fact-finding mission should as soon as possible examine in loco the border control/movement of people and goods questions.
"President Barroso expressed his hope that Spain and the UK will address these matters in a way that is in line with their common membership in the EU."
British Prime Minister David Cameron has previously told Mr Barroso he has "serious concerns" that Spain's actions are "politically motivated".
A Gibraltar government spokesman said it welcomed the intervention of the EU.
"As far as we are concerned we feel that they (the border checks) are over the top and the British government has said exactly the same," he said.
Meanwhile, Royal Navy warship HMS Westminster has docked in Gibraltar in what the British government said was a long-planned deployment of a number of vessels to the Mediterranean and the Gulf.
It follows protests a day earlier by Spanish fishermen off the British territory about the artificial reef.
Spain disputes UK sovereignty over Gibraltar, a limestone outcrop near the southern tip of the Iberian peninsula, which has been ruled by Britain since 1713.