British headquarters in Afghanistan moves to Camp Bastion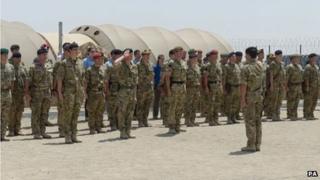 The headquarters of the British military operation in Afghanistan has moved from Lashkar Gah to Camp Bastion, the Ministry of Defence has said.
Task Force Helmand, which co-ordinates the military operations, has been based in Lashkar Gah since 2006.
It was moved to Camp Bastion, the main UK base, in an early morning helicopter operation earlier this month.
Defence Secretary Philip Hammond said the transfer was a "key milestone" in the drawdown of the military presence.
Key staff from the Lashkar Gah contingent - which is led by 1 Mechanized Brigade - flew via Chinook helicopter to Camp Bastion on 9 August to join an advance party already in place.
The rest of the staff were flown to their new base throughout the day.
A short ceremony was then held in Camp Bastion in memory of those members of the armed forces who have lost their lives on operations in Afghanistan.
Defence Secretary Philip Hammond said: "The growing capability of the Afghan security forces our troops have trained is allowing us to reduce the number of UK forces in Afghanistan this year - and the relocation of HQ Task Force Helmand from Lashkar Gah to our main base at Camp Bastion marks a key milestone as we draw down.
"By the end of next year, the UK's combat operations in Afghanistan will be over."
Nearly 8,000 British troops are still serving in Afghanistan, around half of them based at Camp Bastion. All combat operations are due to finish by the end of 2014, with responsibility being transferred to Afghan forces.
Over the past year, British personnel and their Nato allies have focused on training the Afghan security forces.