British embassy in Yemen capital Sanaa reopens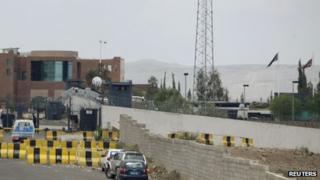 The British embassy in the Yemeni capital Sanaa has reopened after it was closed for nearly two weeks over "increased security concerns".
UK staff in Sanaa were sent home after messages between the head of al-Qaeda and the group's head in Yemen about an attack were reportedly intercepted.
US embassies across the Middle East and North Africa were also closed.
Yemen said the closures had played into the hands of terrorists, but Britain said safety was the top priority.
The BBC's Rami Ruhayem, in Sanaa, said the reopening of the British embassy, at 08:30 local time (06:30 BST) on Sunday, appeared to suggest the perceived danger had passed.
But assessments were being made behind closed doors, and most of the media had received only fragments of information about the reasons for both its closure and subsequent reopening, he said.
'Suicide attacks'
Yemen welcomed the move, but the country's foreign minister Abu Bakr al Qirbi was critical of the closures.
"We feel that closure of the embassies plays into the hands of terrorists," he told the BBC.
"It disturbs people's lives, it affects relations between countries and this is one of the objectives of terrorism."
British ambassador Jane Marriot said she could not comment on the original threat but the UK had to "give the highest priority to the safety and security of all our staff".
The alert was sparked after secret plans discussed by al-Qaeda chief Ayman al-Zawahiri and Nasser al-Wuhayshi were picked up by US intelligence officials, according to US media.
Unprecedented security measures were taken in Sanaa, which saw the British embassy close on 4 August and hundreds of armoured vehicles deployed.
Speaking at the time, the BBC's Abdullah Ghorab, in Sanaa, said a security source had confirmed that Yemeni intelligence services had discovered that dozens of al-Qaeda members had arrived in the city in the preceding days in preparation for a major attack.
The source suggested it was to include explosions and suicide attacks aimed at Western diplomatic missions and Yemeni military headquarters.
'Extremely dangerous'
Yemen is the base of al-Qaeda in the Arabian Peninsula (AQAP), which has recently suffered a series of setbacks after the military launched an offensive in June with the help of US forces.
The UK Foreign Office advises against all travel to the whole country.
Ms Marriot said the "high threat from terrorism and kidnap continues to make it extremely dangerous for British nationals".
"I hope that, with the national dialogue and a willingness by all parties in Yemen to work for the security, stability and economic success of their country, that will eventually change," she said in a statement.