British national dies in Lanzarote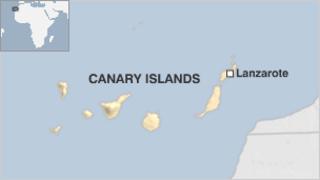 A British national has died on the Spanish island of Lanzarote, the UK's Foreign Office has said.
Local reports suggest a 49-year-old woman was pulled from the water at Famara Beach on Thursday afternoon.
A Foreign Office spokeswoman said: "We are aware of the death of a British national in Lanzarote on 15 August."
Consular assistance was being provided to the family "at this difficult time", she added. No further details have been released about the Briton's identity.
Lanzarote, the easternmost of the Canary Islands, is one of the most popular destinations in Europe for British tourists.
Famara Beach, on the island's north coast, has become increasingly popular with surfers from around the world in recent years, according to local tourism websites.
Another British national died on the same beach in April after being pulled unconscious from the sea by fellow bathers.