Newspaper review: Papers analyse A-level results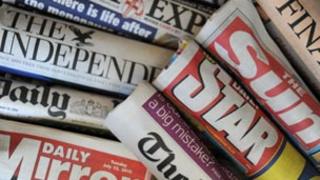 The A-level results and scramble for university places make the lead for the Daily Telegraph, Guardian and Independent.
The Guardian says universities found themselves drawn into an intense competition to recruit students, with one billion pounds worth of student fees as the potential prize.
The Independent highlights a growing gender divide opening up in schools, with girls shying away from maths and science and fewer boys opting for English and creative subjects.
For its main story, the Times says Downing Street will put proposals for restricting the right of EU migrants to claim benefits at the heart of impending discussions with Brussels aimed at winning back powers for Britain.
Daughter visit
The paper says ministers have accelerated work on how they should approach talks after German Chancellor Angela Merkel said plans for Europe to "give something back" to member states would begin after the country's election next month.
The father of one of the two British women accused of trying to smuggle cocaine out of Peru has visited her in the maximum security police station where she is being held - and it is the lead for the Daily Mail.
A picture shows a grim-faced William Reid hugging his distraught daughter Melissa during their first meeting since she was arrested.
The paper says Ms Reid turns 20 on Friday - but there will not be any celebrations.
Forced marriage
There is plenty of coverage of the aftermath of the Egyptian military's violent crackdown against supporters of former President Mohammed Morsi.
The Independent's front page has a picture of a makeshift morgue at a mosque with shrouded corpses laid out in rows.
The Daily Telegraph describes it as a morgue for the uncounted and unidentified.
A number of papers report that teenage girls who fear they are being taken abroad to enter into a forced marriage are using a simple trick to try to escape.
According to the Guardian, they are concealing spoons in their underwear at airport security in order to set off metal detectors.
A spokeswoman for a Derby-based charity that runs a helpline for victims of forced marriages tells the Independent that the girls will be taken to a safe space where they have that one last opportunity to disclose that they are being forced to marry - and many have escaped what they fear awaits them in their family's former homeland.
Old rivalry
Who said international football friendlies were a waste of time?, asks the Sun.
There may not have been a World Cup place at stake during England's game against Scotland on Wednesday night, it says, but the deafening response of the Wembley crowd to every flying tackle and near miss proved that this was a match that really mattered.
Writing in the paper, former England manager Terry Venables calls for the two sides to meet every year once more, saying he firmly believes that the hooliganism that stopped the annual fixture many years ago is a thing of the past now.
The Daily Mirror poses the same question.
Chief sport writer Oliver Holt says it has been "stupid" to neglect this old rivalry: "England should play Scotland every year."