Thefts on rail network targeted in police campaign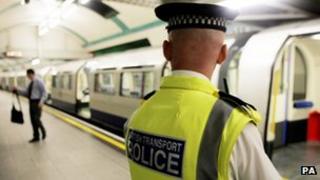 Pickpockets, thieves and so-called gadget grabbers feature in videos issued by police as part of a campaign to highlight theft on the rail network.
British Transport Police said Operation Magnum would also include crime prevention surgeries and leaflets.
While officers said overall crime on the network had fallen, they pointed to a rise in thefts of smartphones and other electronic devices.
They said the campaign will involve train companies and local police.
The aim is to deter pickpockets and phone thieves who target commuters and tourists at busy stations as well as those stealing valuables and luggage from trains, police said.
'Concealed hand'
Ch Supt Paul Brogden - the officer in charge of the operation - said such crimes were "very rarely opportunistic".
"They are committed by determined thieves whose sole intention is to steal from other passengers," he said, adding that crime had fallen on the railways for nine successive years.
But he said: "Theft of passenger property has been a real challenge for us this year, particularly with the rise in thefts of smartphones and other hi-tech devices."
What British Transport Police term "gadget grabbers" feature alongside "luggage lifters" in a series of videos released as part of the campaign.
The short films show the methods used by thieves - ranging from "the concealed hand" to the "helpful stranger".
"We want the public to watch our videos and know how to best look after their property on crowded trains," Ch Supt Brogden said.
His advice included keeping luggage close by and checking on it regularly; keeping valuables hidden when sleeping; and always zipping up any hand or shoulder bags.
He also recommended rail users install a tracker to their smartphones so it could be traced if stolen.