Viewpoints: Should thieves and fraudsters be spared prison terms?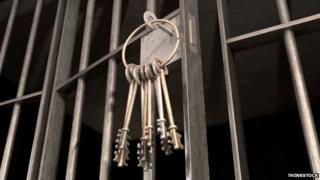 In a pamphlet released by the Howard League for Penal Reform, legal expert Andrew Ashworth argues that thieves and fraudsters should not serve prison sentences.
Prof Ashworth, the Vinerian Professor of English Law at Oxford University, who advised the judiciary on sentencing between 1999 and 2010, said prison should still be considered in cases of robbery, blackmail and burglary.
But for "pure property offences", including theft, handling of stolen goods, criminal damage and fraud, imprisonment was disproportionate, he said.
"We should be reserving our most severe form of punishment for our most serious types of offending.
"Should someone be sent to prison and deprived of their liberty for an offence that involves no violence, no threats and no sexual assault?" he said.
"Instead, the priority should be to deal with such offences in the community, giving precedence to compensation or reparation for the victim and, where the offence is sufficiently serious, imposing a community sentence."
Experts discuss Prof Ashworth's proposals below.
Max Chambers, head of crime and justice at Policy Exchange
Prison is already largely reserved for the most serious and persistent offenders, with magistrates and judges using prison as a last resort. So the idea that the government should ban them from sending offenders to jail for theft and fraud is completely wrong.
Property crimes are already treated leniently by the criminal justice system for the very reason that they do not involve violence. You're far more likely to receive an out-of-court disposal (for example a caution or a fixed penalty notice) or a non-custodial sentence already, so all this proposal would do is artificially restrict sentencers' ability to use prison where it is really necessary. Many of the rioters in London and other English cities were charged with property offences - is Prof Ashworth really suggesting that prison should not have been available as a sanction for them?
Of course we know that, for most people, short sentences do not work well in terms of cutting reoffending. That's why the government has legislated to ensure that short-sentenced prisoners will in future receive proper support on release.
But we have to deal with the reality that for those offenders who do receive short sentences, it's because community penalties have already failed time and time again - the very same sentences that the Howard League are suggesting should be used instead.
Magistrates and judges must retain the ability to give communities some respite, especially when they have run out of road with an offender who has failed to respond to community punishments, or whose offence is so serious that only prison will do. If a burglar is breaking into twenty houses a week, a four month prison sentence will prevent an awful lot of people becoming victims of crime.
The Howard League has a noble ambition - to substantially reduce the prison population. But by far the best way of doing that is to prevent crime and reduce reoffending, not to simply ban the use of prison. It would fetter judicial discretion, send the wrong message to offenders and fail to protect victims of crime from harm. And that's why no sensible government would sanction it.
Juliet Lyon, director of Prison Reform Trust
The prison population has almost doubled in the past 20 years with 83,500 men and women currently behind bars. Our overcrowded prisons are flooded with petty offenders, addicts, and people who are mentally ill.
Prison should be a punishment of last resort for people who commit serious and violent offences. Instead it has become a dumping ground for those who have fallen through the net of other services.
Far too often people leave prison homeless, jobless and ready to offend again. No one can be satisfied by a 58% reconviction rate for offenders serving short prison sentences of 12 months or less.
By contrast, court-ordered community sentences are more effective by nearly seven percentage points at reducing reoffending rates.
Prof Ashworth highlights the important role effective community penalties can play in helping offenders to make amends to victims.
An ICM poll commissioned by the Prison Reform Trust, just six weeks after the August 2011 riots, revealed that most people (94%) supported opportunities for offenders who have committed offences such as theft or vandalism to do unpaid work in the community, as part of their sentence, to pay back for what they have done.
Marilyn Baldwin, founder of anti-fraud charity Think Jessica
This proposal must be written without full knowledge of the devastation caused by fraudsters. It's not just financial - through people losing their homes, for example - but also mental, with people sometimes driven to committing or attempting suicide.
The punishment should actually be greater for fraudsters. Particularly with regard to mail, telephone and internet scams, sentences should be stiffer, not reduced - especially because the avenues open to potential fraudsters are so readily available on the internet.
These types of fraudsters often use legitimate mailing lists that specifically categorise people as elderly and vulnerable. People who respond to these scams are put on what criminals call "suckers lists", which are sold for incredible amounts.
Reducing sentences would be almost like an advert for fraud. And if a criminal is ordered to pay compensation, but they haven't got the cash, haven't got the funds, then they would get let off scot-free with community service.
The majority of awareness campaigns are on the internet, whereas the victims typically don't have access. More money needs to go into educating vulnerable people about these types of crimes.
Many victims can't even recognise that they're victims, they're often "befriended" or sworn to secrecy [by the fraudster] - a condition becoming known as Jessica Scam Syndrome (JSS).
Fraudsters should face the same sentencing as criminals who physically force someone to hand over their money. In our experience, mental abuse can cause the same devastating consequences as physical abuse.
Andrew Haldenby, director of Reform
Prof Ashworth wants less people to go to prison. This may be controversial for some but it is an idea that must be discussed. Even the US, which imprisons 25% of the world's prisoners, is now seeking alternatives to tougher prison sentences.
Prison is expensive and both the US government and the UK face years, if not decades, of ultra-tight public spending.
For Prof Ashworth's recommendations to command public confidence, some aspects of the criminal justice will have to change beyond all recognition. In particular, he wants to help victims of thieves and vandals by forcing those offenders to pay them greater compensation.
In fact fines are already the most common sentence, accounting for two-thirds of all sentences handed down by the criminal courts. The trouble is that the criminal justice system struggles to collect the money.
In 2012, it was reported that the Ministry of Justice had failed to collect almost £2bn of unpaid court fines and confiscation orders. Sixty percent of the money pursued through confiscation orders is expected never to be collected.
Equally Prof Ashworth needs better performance from the community sentences which he favours as an alternative to prison.
In February, Ministry of Justice data showed that than three quarters of criminals who were imprisoned in England and Wales in 2012 had at least one previous community sentence.
Jenny Wiltshire, of Hickman and Rose Solicitors
Prof Ashworth's proposal is overly simplistic. I do not agree with the way he seeks to draw a distinction between violent and sexual offences and offences of theft and fraud. Very few crimes are truly victimless.
Where a vulnerable person has been defrauded out of their life savings, the emotional impact on them could be as bad, if not worse than the impact of a violent offence.
Prison should be the last resort but I do not agree with his suggestion that unless it's a multi-million pound fraud case then no-one should go to prison. It is far more complex than this.
Prof Ashworth is right to raise a debate about short-term sentencing. Short-term prison sentences don't help anyone and the alternatives should be debated.
With offences such as shoplifting, the average offender will be living below the breadline and unable to pay a financial penalty. They are often of no fixed abode and this means that the current community sentences are considered unworkable.
Compensation is right in principal but in many cases, the offender will not be able to pay. The courts are now obliged to impose a victim surcharge at a prescribed rate, regardless of ability to pay, potentially forcing people into further debt. I do not see how this will reduce re-offending rates and the cost of enforcement is likely to outweigh any benefit to the victim.
For offences such as fraud, confiscation proceedings usually follow a conviction. However no money recovered under a confiscation order goes to the victim but to the police and other agencies. Compensation should be the emphasis here, rather than confiscation.
Sentencing policy can be changed without primary legislation by amendments to the guidelines laid down by the Sentencing Council. However this would inevitably require lengthy periods of consultation and it would be a massive task.