Two in five of over-60s do voluntary work, survey shows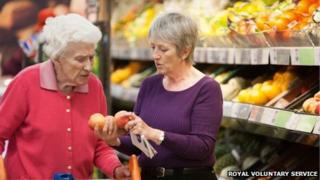 Two out of five people over the age of 60 do voluntary work, a survey has suggested.
A fifth of those questioned helped at least two charities.
Women were more likely to support children or lunch clubs while men volunteered at local football clubs or health charities.
Almost 700 over-60s were questioned by the Royal Voluntary Service who found that most - 83% - did so because they believed charity work was important.
Nearly half of those questioned said they chose to volunteer because they needed to feel their life had a purpose - and 3% said they needed time away from their partners.
'Way of staying active'
David McCullough, chief executive of the Royal Voluntary Service, said: "Many people may believe that retirement is an opportunity to sit back and relax, but on the contrary.
"Thousands of older people are committed to helping as many people as they can, making a huge difference to the lives of others in their communities."
One such volunteer is Mick Downing, 60, from Sheffield. He recently retired from the civil service and now volunteers for two charities. He said his motivation to start was because he missed the company of others and found it difficult to fill his days.
He works for the Royal Voluntary Service as a "good neighbour", who provides companionship for older people. He also volunteers at his local park, clearing rubbish and making sure it is tidy.
Mr Downing said that working with other people on common projects was rewarding because he could "talk to people at greater length about their lives, about things they used to do and what they are interested in".
"I enjoy the companionship of working with other people, doing things that are useful as opposed to work which isn't socially valuable," he said.
"When you retire there's a danger that all you ever do is for yourself or family. Volunteering is a way of staying active in the community. It's a good thing to do in terms of satisfaction and helping other people."
The Royal Voluntary Service was founded in 1938 to help with the WWII effort. It was originally known as the Women's Voluntary Services - the Royal was added in 1966 - but recently dropped the "W" to mark its 75th anniversary.
The charity interviewed a random nationwide sample of 689 adults over 60 for this survey.
They said their survey indicates that more than 2.2 million people over 60 volunteer for two or more charities.
They found that 11% of volunteers worked for more than three charities and 6% for four or more.