Royal Navy taskforce sets sail ahead of Gibraltar visit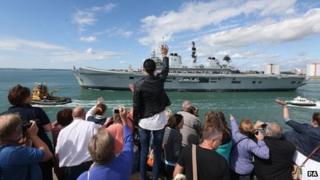 A Royal Navy deployment, which will include a stop at Gibraltar, will leave UK ports over the next few days, amid tensions between Spain and the UK.
A warship is due to dock at the British territory within a week, a deployment described by the MoD as "long-planned".
It comes as increased vehicle checks at the Spanish border have led to delays.
The Spanish government said it is considering taking the dispute to the UN Security Council where it could seek the support of Argentina.
A spokesman told the BBC that although the Falkland Islands - over which Britain went to war with Argentina - and Gibraltar were different issues, there were similarities between the two disputes.
Military exercises
The MoD says a number of Royal Navy warships and vessels from the Royal Fleet Auxiliary are setting sail over the next few days for the annual deployment of the Response Force Task Group.
The group includes HMS Bulwark, HMS Illustrious, HMS Montrose and HMS Westminster. Helicopter carrier HMS Illustrious departed from Portsmouth on Monday morning and will join the navy flagship HMS Bulwark, which has sailed from Devonport.
HMS Westminster will be stopping over in Gibraltar, accompanied by the Royal Fleet Auxiliary ships Lyme Bay and Mounts Bay.
One of the other warships will visit the Spanish Rota naval base, which is near the Strait of Gibraltar in south-west Spain.
Spain's foreign ministry agreed the Royal Navy deployment was routine, adding that the UK government had asked for permission to stop over at Rota.
The BBC's Spain correspondent, Tom Burridge, said that - while both London and Madrid had played down the timing of the visit - the ships would be arriving at a sensitive moment for British-Spanish relations, amid a diplomatic row over the territory's status and the waters nearby.
It follows a decision by Gibraltar to drop 70 concrete blocks into the sea off its coast, with the aim of creating an artificial reef and encouraging sea-life to flourish.
The Spanish government has accused Gibraltar of laying the blocks "without the necessary authorisation" in "waters that are not theirs", contravening environmental laws and damaging Spain's fishing industry.
Madrid responded by increasing border controls and announcing it was considering a 50 euro (£43) fee to cross its border with Gibraltar.
The four Royal Navy warships and six other vessels are heading to the Mediterranean, and then onto the Gulf region, to conduct military exercises.
Thousands of Royal Navy, Royal Marines from Plymouth-based 3 Commando Brigade, and Royal Fleet Auxiliary personnel will take part in the exercise.