Government opposed to EU caravan roadworthiness test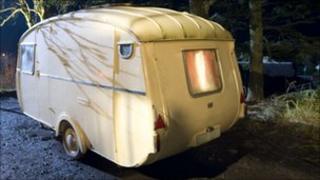 A European Union plan to introduce MOT-style testing for caravans is being resisted by the government.
The proposal would result in caravans weighing more than 750kg being required to undergo regular checks.
Caravan owners have warned that the move could damage the economy by cutting the number of people taking caravans on holiday in the UK.
The Department for Transport says it will "resist" the EU plan.
The measure would affect many of the estimated 510,000 caravans in current use in the UK, with only the smallest two-berth models excluded.
The Caravan Club, which represents 375,000 families across the UK, argues that its members often have young children and are highly likely to regularly service their caravans for safety reasons.
Practical challenges
No price has been set for the test but the Caravan Club has said the cost of establishing it would be huge, with caravan and trailer owners bearing much of the cost.
The government last year estimated that it would cost £239m to introduce a caravan and trailer registration scheme for the UK.
A Club spokeswoman said: "The club will always support practical and effective measures aimed at improving road safety.
"In this case, however, we believe the proposals are not supported by clear evidence that they will address a genuine concern, nor that the practical and economic challenges of implementing them have been sufficiently considered.
"It is therefore likely that the proposals would not deliver a desirable benefit to cost return against any of those criteria and instead could prove a strong disincentive to participate in caravanning, with consequent harm to the entire caravanning sector plus the associated tourism activities."
A Department for Transport spokesman said the move also faced opposition in a number of other European Union countries.
He said: "Member states have already agreed that they do not want to introduce roadworthiness testing for caravans - this includes the UK government and we will continue to resist it."
The caravan plans are part of proposals for a tougher vehicle testing regime which its supporters say "aims to increase road safety by introducing more harmonised rules and higher standards for vehicle roadworthiness testing".
Siim Kallas, vice president of the European Commission, said if vehicles - including caravans - cross European borders, EU countries "must have some kind of harmonised approach and rules concerning technical quality".
The roadworthiness regulations are due to be debated by the European Parliament this autumn.
The plan passed their first stage in the parliament last month, despite British MEPs speaking out against the idea.
This article was updated on 12 August 2013 to better reflect the reasons why the proposals are being introduced.