Gibraltar row: Spanish PM Mariano Rajoy hopeful about talks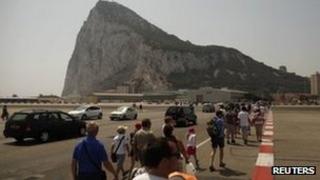 Spain's PM has said he hopes talks with the UK will end the current row over Gibraltar, but pledged to "take legal measures to defend the interests of Spanish citizens" in the meantime.
Mr Rajoy called for negotiations between Spain, the UK, Gibraltar and the government of Andalucia, according to El Pais newspaper.
Relations between Gibraltar and Spain have deteriorated recently.
This is partly due to a row over increasingly thorough border checks.
"Spain will take legal measures," Mr Rajoy told reporters after a meeting with King Juan Carlos of Spain
"It will take proportionate measures that don't discriminate against anyone, but of course it will take legal measures to defend the interests of Spanish citizens.
"But I hope this goes no further."
On Wednesday, a spokesman said UK Prime Minister David Cameron had raised "serious concerns" with Mr Rajoy over deteriorating diplomatic relations between the two countries.
A phone call between the two heads of government followed increased vehicle checks at the border between Spain and Gibraltar, causing major delays for tourists and residents.
After the call, Mr Cameron said he was very clear that Britain "will always stand up for the people of Gibraltar".
The Spanish foreign minister has reportedly mooted bringing in a new 50 euro (£43) fee on every vehicle entering or leaving the British territory.
The increased border checks came after a decision by Gibraltar to drop 70 concrete blocks into disputed waters just off its coast, which Gibraltarian authorities said would create an artificial reef and encourage sea life to flourish.
The Spanish government has accused Gibraltar of laying the blocks "without the necessary authorisation" in "waters that are not theirs", contravening environmental laws and damaging Spain's fishing industry.