National Lottery seeks 12 'missing millionaires'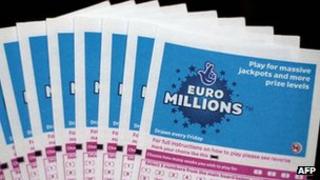 Twelve potential millionaires have yet to claim their prizes two weeks after winning £1m in a EuroMillions draw, the National Lottery has said.
A raffle on 26 July made 100 entrants winners of £1m each. So far 88 have come forward.
The remaining 12 have until January 2014 to claim their winnings.
Some of them bought their tickets in Fife, Bristol, Gloucester, Bolton, Kensington and Chelsea, East Dunbartonshire, Havering, and Sutton.
The other winning tickets were purchased in Blackpool and Borough of Fylde, West Dorset and Weymouth and Portland, Brighton and Hove, and the County Borough of Rhondda Cynon Taf.
"Imagine walking around not knowing you are a millionaire," a National Lottery spokesman said. "We urge every player to check their tickets."
He added: "This draw has been life changing for 88 ticket holders already and we are desperate to find our missing millionaires."