Newspaper review: 'Shock' over Zanzibar acid attack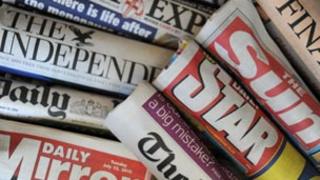 Friday's newspapers include extensive coverage of an acid attack on two British women in Zanzibar.
The Daily Mail says the Tanzanian president visited Katie Gee and Kirstie Trup in hospital - a signal, it says, of the shock caused by the attack and the country's determination to guard its lucrative tourism industry.
The Sun reports that Islamic fanatics may have targeted the girls in a bid to scare away tourists and force the government to free two radical clerics.
Meanwhile, a number of papers consider how to prevent vulnerable young people falling victim to online bullies, after 14-year-old Hannah Smith was found hanged at her home in Leicestershire last week.
Her family say she was bullied by other users on the ask.fm website. The Daily Mirror says the internet age has opened up a cyber world of opportunities - but it is full of pitfalls.
For the Times, the victims of bullying are not beyond help - and those best placed to provide it are their parents.
Housing ladder
A boom in buy-to-let mortgages provides the lead for the Guardian and the Financial Times.
According to the FT, low interest rates and government policies are helping to resurrect the buy-to-let market, with lending to landlords surging to a near five-year high.
The Guardian says more than one in 10 mortgages are now being handed to a would-be landlord, while first-time buyers are still struggling to get on the housing ladder.
According to the Daily Telegraph's main story, Scotland Yard's fraud squad has been asked by MP Rob Wilson to gather information to determine whether BBC pay-offs to senior managers amounted to fraud.
It says a decision will be made in due course as to whether the force conducts a full investigation.
"British politics at a crossroads," is the lead headline for the Independent.
It says public disenchantment with Westminster is so severe that senior Conservatives fear the party's membership has fallen to 100,000 for the first time in modern political history, following declines in the numbers of Labour and Liberal Democrats activists in recent years.
For its main story, the Daily Mail says Nigeria is spending millions on plans to put a man into space, as Britain hands it more than £1bn in aid over five years.
The Daily Express leads on figures showing that Britain's population has increased by more than that of any other European Union country - driven, in part, by what it calls a "migrant baby boom".
Silver surfers
There is a fascinating insight into how the internet has become "intertwined in daily life", as the Guardian puts it.
Official figures show 26 million UK adults are logging on daily - more than double the number seven years ago.
According to the Times, internet use among the over-65s has quadrupled in the past eight years.
However, only 11% of "silver surfers" use social networking sites such as Facebook and Twitter, compared with 93% of 16 to 24 years olds.
Finally, the Daily Telegraph reports that the Washington Redskins - the US capital's American football team - is under mounting pressure to change its name amid criticism that it is racist towards Native Americans.
According to the paper, media outlets have begun announcing they will no longer use the name in their coverage of the team.