Hen harriers 'face extinction' in England, says RSPB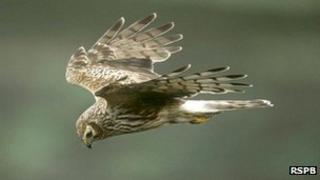 Hen harriers are close to extinction in England after the country's only two nesting pairs failed to breed, conservationists have said.
The RSPB said it was the first time the species had not produced a chick in England since the 1960s.
The charity accused private shooting estates of trying to "remove this bird since it recolonised".
The Countryside Alliance said the RPSB was wrong to blame grouse moors and hen harriers were not facing extinction.
And the Moorland Association pointed out that some grouse moor managers, including one responsible for land next to the ill-fated nesting site in Northumberland, were protecting grouse populations by providing nearby hen harriers with alternative food sources.
And the Countryside Alliance, which campaigns on rural issues, said the issue was about "breeding failure, not extinction".
'Charismatic'
"A very late and cold winter will have affected breeding patterns," association chairman Robert Benson added, describing the failure of the two hen harrier pairs to breed as disappointing.
"We are working with Defra [the Department for Environment, Food and Rural Affairs] and Natural England to ensure numbers of breeding harriers increase on grouse moors in a way that is compatible with ongoing grouse moor management," he said.
Hen harriers once lived across the UK but became extinct in mainland Britain in about 1900 due to persecution, the RSPB said.
A decline in persecution and changes in land use allowed them to spread back from populations in Scottish islands and the birds reached England again after World War II.
But RSPB conservation director Martin Harper said the fact hen harriers, which he described as "one of our most charismatic birds of prey", killed grouse had put them back in danger.
"Managers on some intensively managed shooting estates have been attempting to remove this bird since it recolonised," he said.
'Continue to fight'
"The latest news is a huge setback and only a victory for those who want to see this bird of prey disappear from England's skies, but we will continue to fight to ensure that this bird has a future in some of our most iconic landscapes."
But a spokesman for the Countryside Alliance told the BBC: "This is an issue of breeding failure, not extinction.
"According to the RSPB there are 646 pairs of hen harriers in the UK, and many can be seen moving around the country throughout the year. We are not about to see the last hen harrier in England.
"Moorland managed for grouse shooting also only accounts for around one-fifth of the uplands of England and Wales, yet the breeding success of hen harriers on the remaining four-fifths, which includes land managed by the RSPB, has been no better.
"Who is to blame there, as it cannot be grouse moor managers?"
A study by government scientists suggested England's upland areas could support more than 300 pairs of hen harriers, but illegal persecution through shooting, trapping and disturbing nests was keeping numbers low.
Research by the Game and Wildlife Conservation Trust (GWCT) found that controlling predators like foxes and crows to protect red grouse on moorland helped birds of prey, including hen harriers.
But increasing hen harrier numbers meant they took more grouse, which could make grouse moor estates economically unviable, the GWCT said.
The RSPB backs a plan to provide alternative food sources for hen harriers so they can co-exist alongside managed grouse moors.