Gibraltar visit for Royal Navy warship is routine, says MoD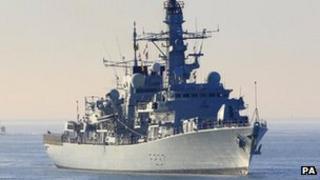 A Royal Navy warship is to pay a "routine" visit to Gibraltar, the UK government has said, amid a continuing row with Spain over border checks.
Relations between Gibraltar and Spain have deteriorated in recent weeks.
But the Ministry of Defence said the visit was "long-planned" and one of many "regular and routine deployments".
HMS Westminster, accompanied by two auxiliary ships, makes up part of a task force which is destined for the Middle East.
'Granted permission'
Other warships in the task force will visit ports in Portugal, Spain, Turkey, and Malta.
"Gibraltar is a strategic base for UK defence and as such Royal Navy ships visit its waters throughout the year as part of a range of regular and routine deployments," an MoD spokesman said.
Spain's foreign ministry agreed that the visit was "routine", adding that the UK government had asked for permission to stop over at the Rota naval base, which is near the Strait of Gibraltar in south-west Spain.
"They asked for permission for the operation and in our relationship as allies, we granted it," a Spanish foreign ministry spokesman told Reuters news agency.
On Wednesday, a spokesman said UK Prime Minister David Cameron had raised "serious concerns" with his Spanish counterpart Mariano Rajoy over deteriorating diplomatic relations between the two countries.
The call followed concerns over increased vehicle checks at the border between Spain and Gibraltar causing major delays for tourists and residents.
And the Spanish foreign minister has mooted bringing in a new 50 euro (£43) fee on every vehicle entering or leaving the British territory.
The checks followed a decision by Gibraltar to drop 70 concrete blocks into the sea into disputed waters just off its coast, which Gibraltarian authorities said would create an artificial reef and encourage sea life to flourish.
The Spanish government has accused Gibraltar of laying the blocks "without the necessary authorisation" in "waters that are not theirs", contravening environmental laws and damaging Spain's fishing industry.