Ask.fm advertisers to quit site in cyberbullying row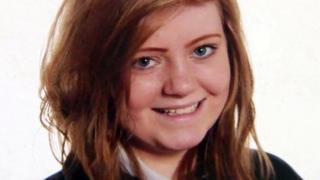 Several large companies are among those pulling adverts from social media website ask.fm, after the death of a teenager who was bullied online.
The Sun newspaper, EDF, BT and optical retailer Specsavers are among those distancing themselves from the site.
Ask.fm has issued an open letter saying it does not condone bullying of any kind on its site.
The controversy comes after the death of bullied 14-year-old Hannah Smith from Leicestershire.
Earlier, David Cameron said social network sites must "clean up their act" or face boycotts from users.
Her father has said she killed herself after being targeted on ask.fm where she faced anonymous taunts and comments urging her to end her life.
'Troll kings'
Police are investigating claims that, since her death, Hannah's 16-year-old sister has also received abusive web messages.
A source at the Sun, which on Wednesday described ask.fm as a "suicide site", told the BBC it would cancel the advertising package which saw an advert for the paper's new online service appear on the site.
It had said the men behind ask.fm were "troll kings" on its front page.
Vodafone, Specsavers, Save the Children and Laura Ashley have also moved to withdraw their adverts.
Advertising space is often bought through agencies. Organisations can buy "bundles" of advertising to showcase their brands on multiple sites - so can be unaware of exactly where their adverts appear.
Ask.fm, the Latvia-based website used by Hannah, allows people to post comments anonymously. Her father David said he had found posts telling her to die.
'Happy to co-operate'
In an open letter from ask.fm on Thursday the site said it had an "in-question reporting function" which had been in place since 2012 and was "similar to the in-tweet function announced by Twitter this week".
"This means that anyone can report anything they see that may be of concern. If parents see something on their teenager's ask.fm page that they are concerned about, they too can click the in-question reporting button and alert our moderators," the letter said.
The letter also says a team of moderators was present "around the clock - 24 hours a day, seven days a week, and 365 days per year" who manually check all content posted to its site.
It continued: "We believe one of our site's advantages is that everything is open - rather than hidden in private inboxes. This means that anyone can report anything they see that may be of concern."
Earlier this week, ask.fm described Hannah's death as a tragedy and said it was "happy to co-operate" with the Leicestershire police investigation into the circumstances around it.
Among organisations offering parents advice on helping their children stay safe online is Childnet International - which has its own guide for parents about the safe use of social networking websites.
The BBC also has internet safety tips for parents, including keeping children safe on social networks.
Ceop - the police-linked Child Exploitation and Online Protection centre - also allows parents and children to directly report sexual or offensive chat through its report centre.