Airports Commission boss highlights 'wide spectrum' of expansion plans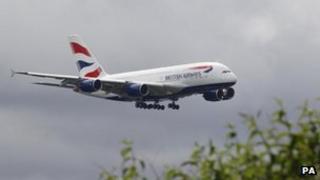 The chairman of the Airports Commission on expanding the UK's airport capacity has said there is a "wide spectrum" of views on how best to proceed.
Sir Howard Davies said his panel had received "imaginative and thoughtful" responses to its consultation.
The commission has published details of some of the proposals it has received, and is inviting comments on them.
The panel is due to present its interim findings by the end of this year and a full report in summer 2015.
'Compelling case'
Sir Howard said: "There are a number of interesting new proposals. For example Heathrow are proposing something which is rather different from what was planned before, so the old third runway is not in fact now on the table, but other different types of runway are."
But it had also seen a few ideas that were a "bit far-fetched", he said.
One plan submitted to the government-appointed commission had involved putting a runway through BBC presenter John Humphrys's garden, he explained on Radio 4's Today programme.
London Mayor Boris Johnson has advocated the construction of a new airport on an artificial island in the Thames Estuary, a major expansion at Stansted, or an airport at the Isle of Grain in north Kent.
But Gatwick told the commission it had a "robust and compelling case" for building a second runway to the south of its existing one.
Sir Howard, a former head of the Financial Services Authority, said he had received a total of "about 50" plans, though not all were in favour of a new runway.
"Some people have argued quite cogently that they don't think that we do need additional capacity if we could spread the traffic around," he said.
Sir Howard said: "The proposals that we have received and that we have published today demonstrate imaginative and thoughtful responses to the challenges that the Airports Commission has been set, but also show clearly the wide spectrum of views that exist on these issues.
"The timetable to comment is tight, as we need to move quickly to winnow down the options and reduce uncertainty for potentially affected communities. I encourage everyone with an interest to make their views known, to help inform our recommendations on these complex and important questions."
One idea put forward was higher landing charges for airlines using congested airports to make them more likely to use less busy airports.
There was also a proposal for RAF Northolt in west London to accommodate some small aircraft which would otherwise use Heathrow.
'Happy Sisyphus'
The panel received proposals that the level of air passenger duty (APD) should be cut, but there were also proposals for APD to go up.
There were also calls for more, as well as less, night flying.
Sir Howard said: "It's very important that what we propose is within the climate change policies that are legislated, of course.
"So some of the ideas that we just expand to cater for any level of demand, I think, are implausible because you cannot imagine aviation growing so much that the climate emissions of the rest of the economy have to be reduced to zero in order to accommodate it.
"So we are looking at that first, and we are then looking at what use you can make of other non-London and the South East airports, and only when we have done that will we see just what additional capacity is required in London and the South East. All of that will be done by December."
Asked whether he thought there was a chance his recommendations might never be adopted, Sir Howard said: "I often think of the myth of Sisyphus where Camus's famous novel says we must imagine that Sisyphus is happy pushing his rock up the hill.
"And I'm very happy to be pushing this rock. I think eventually we will get it to the top."