Newspaper review: Internet 'trolls' make headlines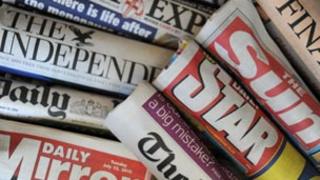 Online bullies or "trolls" make the front pages of several papers, following the death of Hannah Smith.
The 14-year-old took her own life on Friday after receiving abusive messages on the internet, and the Mirror says her sister Jo, 16, is now being targeted.
The Sun reports on the Russian brothers who own Ask.fm, the site on which Hannah was targeted, saying they have "earned millions" from the website.
The Daily Mail speaks to a former Ask.fm employee, who says the website's owners weren't interested in monitoring comments, and have put "profits before welfare".
Its front page headline calls for the website, where users can post anonymously, to be closed.
The site has said it is helping police with their inquiry and its moderators "ensure genuine concerns are acted on immediately".
Several papers join the debate about how much money charity executives should be paid, after it was revealed that 30 staff at 14 of Britain's biggest foreign aid charities earned £100,000 or more last year.
In the Daily Telegraph, cartoonist Christian Adams depicts a man in a pin-striped suit, clutching a huge collection tin with the words: "My pay - please give generously".
Writing in the Daily Express, Stephen Pollard says "it would be wrong to jump up and down in anger because some charity workers are on good salaries", arguing that "they need skilled professionals to manage huge budgets".
Boom or bubble?
Charity bosses aren't the only ones doing well, it seems.
"Britain is booming!" reads a headline in the Daily Mail. House prices, new car sales and manufacturing are all up, says the paper.
The Telegraph's front page says the Conservatives are feeling "the benefit of the bounce".
But Hamish McRae, writing in the Independent, warns: "We still have a huge deficit to crack, and the squeeze on public spending has barely begun."
A report in the Times also urges caution. It quotes the ratings group, Fitch, saying the government's Help to Buy scheme could create a bubble in the housing market - while failing to increase the supply of homes.
Also in the Times, Matthew Parris argues in favour of zero-hours contracts, where people are not guaranteed regular hours - and therefore regular income.
He says he's got a zero hour employee himself, a researcher, on what he prefers to call an "as and when" deal.
The Financial Times says such contracts have kept half a million people off the dole, based on information from the Confederation of British Industry.
Writing in the Guardian, Seumas Milne says: "For most people on these contracts, this is 21st Century serfdom. It is a modern version of the dockers' line up."
And in the Sun, the entrepreneur David Fishwick says "zero hours means zero respect".