Complex sex abuse cases to be heard by select judges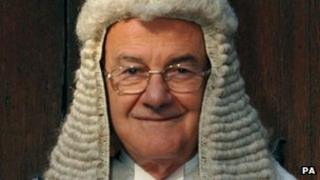 A select pool of judges with specialist training is to be created for complex child abuse cases, the head of the judiciary in England and Wales says.
They will be appointed to hear lengthy cases, trials with multiple defendants or ones when a witness is thought to be "significantly" vulnerable.
It comes amid concern over the way some victims have been treated in court.
But Lord Chief Justice Lord Judge has rejected a call by MPs for specialist courts to deal with such cases.
He said they would be costly and would slow down the progress of trials.
'Same outcome'
The idea had been put forward in a report by the Home Affairs Select Committee amid criticisms of the treatment of child witnesses by lawyers at the trials of numerous men accused of grooming and sexual exploitation.
Meanwhile, it has emerged that earlier this week a prosecuting barrister described a 13-year-old victim of sex abuse as "predatory" and "sexually experienced" during a sentencing hearing for her abuser. The Crown Prosecution Service has described the comments as "inappropriate".
Lord Judge rejected the idea of specialist courts in a letter to committee chairman Keith Vaz.
But he told the MP: "Instead, the combination of the other very sensible proposals in your report, including the training of advocates and the additional training of the core group of judges, will in my view deliver exactly the same outcome as a specialist court."
Lord Judge, who retires from his role at the end of September, said he accepted "the [court] process may have operated imperfectly" for some vulnerable victims and witnesses in cases involving multiple defendants, each with their own cross-examining barrister.
To help correct this, he said a limited number of judges would be put on the list to deal with such cases and they would receive "bespoke training" to improve their skills.
In his letter, Lord Judge also backed government proposals to allow young and vulnerable victims of crime to pre-record their evidence in order to avoid the trauma of appearing in court.
Lord Judge said he did not agree that specialist courts would "materially improve the position".
"It goes without saying that all of those involved in the process should be trained appropriately, but there are likely to be unintended adverse consequences if this proposal is taken forward," he wrote.
"Restricting the available venues to a few specialist centres is likely to lead to far greater waiting times because of the limited number of courtrooms, judges and staff.
"Additionally, these courts are likely to prove expensive to set up and run."
'Aggressive questioning'
Javed Khan, chief executive of the charity Victim Support, said the plans for additional judge training were "a considerable step in the right direction".
"Whilst I agree that many judges handle cases sensitively, our experience tells me that others can be too slow to interject during overly aggressive cross-examination," he said.
Mr Khan said his charity agreed that specialist courts were not the answer, but did want to see the young witness service - staffed by trained support workers - rolled out across every court in England and Wales.
A number of recent, high-profile grooming cases have brought the issue of victims' treatment to the fore.
Announcing plans for a review of aggressive courtroom questioning in June, Justice Minister Damian Green cited a child prostitution case in Shropshire in which one victim was cross-examined for 12 days by seven defence barristers.
Specialist courts already exist in England and Wales to deal with domestic violence.
In a report published in June, the Home Affairs Select Committee recommended that one existing courtroom in each region of England and Wales should be designated as the preferred court for the most serious child sexual exploitation cases
It should be selected on the basis that it has the most up-to-date technology and appropriate access and waiting facilities for victims and witnesses, the MPs said.
And they called for each court to be staffed by a team of specialist child sexual exploitation judges, prosecutors, police, witness support staff and ushers.