Marines murder suspects in court over Afghan death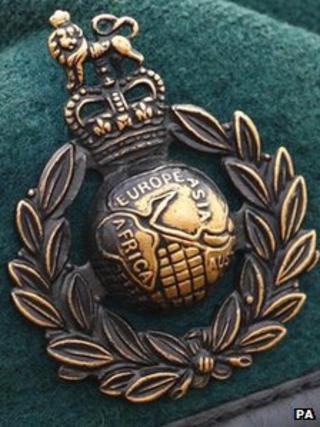 Three Royal Marines accused of murdering an Afghan prisoner while on patrol have appeared in court.
The men, known only as A, B and C were at a pre-trial hearing at the Military Court Centre in Bulford, Wiltshire.
They have denied murdering the unknown Afghan in September 2011.
Two further marines had the charges against them dropped in February. An anonymity order granted last year to protect all five from reprisals remains in place.
In a 30-minute hearing, Judge Advocate General Jeff Blackett told the servicemen - who listened from behind a screen - their trial would last up to three weeks and was due to begin on 21 October.
Gen Blackett released the defendants on bail until their trial.
At an earlier hearing they pleaded not guilty to the allegation under section 42 of the Armed Forces Act 2006.
They are accused of murdering a captured Afghan while on patrol on or around 15 September 2011.
Royal Military Police arrested them last October after suspicious video footage was found on a serviceman's laptop by civilian police in the UK.
Last November Gen Blackett said they would be at "real and immediate risk" from "organised terrorist activity and 'lone wolves"', if their names became publicly known.