Newspaper review: Speculation on Berlusconi future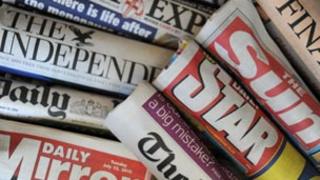 There are calls in Saturday's newspapers for the former Italian Prime Minister, Silvio Berlusconi, to resign his seat in the Senate, after the Supreme Court upheld his prison sentence for tax fraud.
For the Financial Times, if he had any shred of honour, he would quit.
The Independent says Mr Berlusconi has indicated that he will not go quietly but it is vital for Italy that he does, as he remains a polarising figure.
But the Guardian says he "did not look or sound" like a beaten man in his video address.
And according to the Times headline Berlusconi is "in disgrace but bent on making a comeback".
Parking cash cow
Several papers report that Labour's candidates for the European elections next year shows that of the 11 regional lists, all but one is topped by someone with links to the Unite union.
The Daily Telegraph says this comes after the Labour leader, Ed Miliband, had promised to water down his party's ties with Unite.
But the Daily Mail says if Labour does as well next year as it did in 2009, the vast majority of its MEPs will owe their success to the union.
Most of the newspapers lead their front pages on different stories.
The Times front page invites readers to "turn your drive into a car park cash cow".
It reports that ministers are to issue guidelines confirming homeowners can rent out their drives without planning permission, as a way of tackling what they say are excessive on-street charges imposed by local councils.
The Sun says many hard-up families earn more than £200 a month renting out off-street parking, especially if they live near town centres or train stations.
For its main story, the Daily Mail reports that Marks and Spencer has been caught up in a mis-selling scandal over signing up energy customers.
According to the paper, it is claimed many were misled about the savings offered. A spokesman is quoted as saying the number of people affected amounts to less than 1% of the 200,000 energy clients.
Overseas buyers
The lead story in the Daily Telegraph is that the UK's leading universities are to make an unprecedented number of places available through clearing this year.
At least half the Russell Group universities are to be part of the system set up to match students with spare places.
The paper says the universities have traditionally offered few places through clearing as they are usually oversubscribed. But this year there have been reforms to the system as well as continuing concerns about tuition fees.
According to the Financial Times, most new homes in Central London are being sold off-plan at glitzy overseas sales exhibitions before being advertised to UK buyers.
More than half of the homes were bought by purchasers from Singapore, Hong Kong, China and Malaysia, the paper says, noting that it is helping to fuel a housing boom that threatens to freeze out domestic purchasers.
'Wrong time'
The Guardian says a leaked internal survey shows a staff working on the government's flagship universal credit welfare reform programme claim there is an environment of poor management and say are under high levels of stress.
Meanwhile, the Independent's lead story claims the Home Office is facing an investigation into whether its officials broke equality laws by carrying out spot checks to find illegal immigrants.
Pop music impresario Simon Cowell's private life is the focus of attention for the Daily Mirror, the Sun and the Daily Star.
They have reported that the television entrepreneur has been named in divorce papers after allegedly having an affair with the wife of a friend and property millionaire and getting her pregnant.
The Sun says he has broken his silence to say he will clear things up when the time is right, but adds: "I have to respect a lot of people's feelings right now".