British embassy in Yemen to close as 'precaution'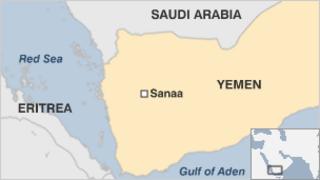 The British embassy in Yemen is to be closed on Sunday and Monday as "a precautionary measure", the Foreign Office has confirmed.
A spokesman would not say if the closure was in response to a specific threat.
The embassy in Sana'a had already been operating with a reduced staff "due to increased security concerns".
It comes after the US issued a global travel alert and announced it would close 21 of its embassies on Sunday.
'Ramadan concern'
A Foreign Office spokesman said: "The embassy will be closed on 4 and 5 August. We have withdrawn a number of staff from Sana'a, due to increased security concerns.
"We updated our travel advice to Yemen on 2 August to reflect that.
"We keep travel advice and the security of our staff and missions under constant review. Our travel advice advises particular vigilance during Ramadan, when tensions could be heightened.
"We are particularly concerned about the security situation in the final days of Ramadan and into Eid."
The Islamic holy month ends next week.
Al-Qaeda threat
On its website, the Foreign Office was already advising against all travel to Yemen and urging British nationals to "leave now".
It says there is "a high threat from terrorism throughout Yemen" and "a very high threat of kidnap from armed tribes, criminals and terrorists".
Unlike the US, the UK is keeping its embassies in Saudi Arabia, Oman, Qatar, Bahrain, Kuwait, United Arab Emirates and Iraq open, but it has advised staff to "exercise extra vigilance as we approach Eid".
The US state department issued a global travel alert because of an unspecified al-Qaeda threat.
In a statement, it said: "Current information suggests that al-Qaeda and affiliated organizations continue to plan terrorist attacks both in the region and beyond, and that they may focus efforts to conduct attacks in the period between now and the end of August."
That followed an announcement that the US planned to shut 21 embassies and consulates on Sunday, including in Sana'a.