Immigrant spot checks: Equality watchdog investigates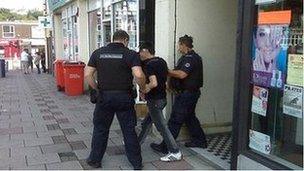 Immigration spot checks at railway stations across the country are to be investigated by the equality watchdog for possible unlawful discrimination.
This follows reported complaints that the checks, carried out on Thursday, targeted people based on ethnicity.
The Equality and Human Rights Commission said it would examine the powers used and their "justification".
Immigration Minister Mark Harper denied the checks used racial profiling. He said they were based on intelligence.
A spokesman for the Equality and Human Rights Commission (EHRC) said it would also "ask questions about the extent to which the Home Office complied with its public sector equality duty" when vans were sent around London encouraging illegal immigrants to "go home".
Rick Jones, of charity Refugee Action, said: "Where's the evidence that creating this hostile environment actually works and will create the environment where people will engage with the government and go home?"
He added: "We need to treat people with respect and dignity and not vilify people."
As well as the spot checks at transport hubs, there were raids on workplaces on Thursday.
A Home Office spokesman said there were a total of 160 arrests, 21 of which were at stations in London.
The other 139 suspected illegal immigrants and rogue employers were arrested at locations across the country including London, Durham, Manchester, Wales and Somerset.
The Home Office said there had been 228 immigration street operations since 2008 and there were 9,000 arrests in the past year for suspected immigration abuse.
An EHRC spokesman said it was writing to the Home Office about the checks at transport hubs.
He said the EHRC "will be examining the powers used and the justification for them, in order to assess whether unlawful discrimination took place".
Doreen Lawrence, who was confirmed this week as a Labour peer, said: "I'm sure there's illegal immigrants from all countries, but why would you focus that on people of colour, and I think racial profiling is coming into it."
But Mr Harper said the operations had been "based on intelligence and reasonable suspicion".
"We don't just stop people at random," he said, describing the series of arrests as "lawful and proportionate".
He later said the street operations "involved immigration officers talking to people in the local area and, where there was a reason to do so, asking questions in relation to immigration status".
He added: "Although we do not often run these kinds of operations, it is not a new way of working. We have used these tactics effectively over many years."
Mr Harper said he was confident immigration officers had complied with guidance, which says they must not stop people based on their race and colour but must have "reasonable suspicion" that someone has committed an immigration offence.
The guidance says street operations are designed to "target immigration offenders where intelligence has shown that they are gathered at specific locations at certain times".
Shadow immigration minister Chris Bryant said he had written to the home secretary questioning the basis on which the arrests were made.
"It is in everyone's interest to combat illegal immigration but profiling is not acceptable and should not be happening under any circumstances," he said.
"Operations need to be intelligence-led, not based on ethnicity."
The Home Office's own guidance says that an immigration officer can only stop somebody if they have intelligence to say that that person may be an illegal immigrant, said Mr Bryant.
Mr Bryant said the government had released the figure of 160 arrests to look tough on immigration, but he said Home Secretary Theresa May had "refused so far" to say how many people were stopped.
UKIP leader Nigel Farage, whose party wants less immigration into the UK, said the government was "panicking" and trying to "sort the problem out in an overly fast and heavy handed manner".
"If it feels as if what is basically happening is that they are going to some parts of the country and stopping every person with a black face, then that is totally unacceptable," he said.
The Unite union said earlier it was seeking legal advice about whether the "go home" vans had "incited racial hatred".
General Secretary Len McCluskey said: "This is a vile act by a government that demeans its office by scrabbling around in the gutter with these stunts. This must not be rolled out nationwide, as some have suggested."
Labour peer Lord Lipsey has reported the posters to the Advertising Standards Authority.
The BBC revealed on Thursday how two-thirds of fines imposed on employers of illegal workers had been uncollected in the past five years, with only £25m of the £80m of fines issued collected.