Millions of Britons financially 'illiterate'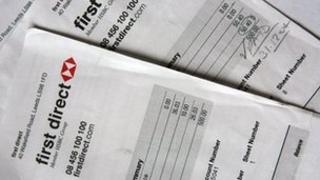 Among the findings of a major survey of UK personal finances was the statistic that about 16% of UK adults cannot identify the balance on their bank statement, a figure that rises to more than 25% for those aged 55 and over.
"Shocking" but unsurprising, is the verdict of Michelle Highman, chief executive of national money education charity Credit Action.
"People just don't understand their balances," she says. "Something like a bank account is quite a technical document and the report does say there has been an increase in full disclosure but sometimes that can be too much information.
"Different bank statements look different, different credit card statements look different. Sometimes they are shown in brackets, sometimes in red.
"If you are not used to dealing with numbers it can be confusing to people."
The financial illiteracy of millions of Britons was highlighted by other findings of the Financial Capability of the UK report, by the Money Advice Service (MAS).
It raised other issues including a lack of understanding of inflation, a misunderstanding that paying into your pension later in life is preferable to starting one early, and trouble with interest rates.
The report said that 12% of adults, rising to 17% of under-35s, believed the current Bank of England base rate stood at more than 10%. The base rate currently stands at 0.5%.
'Significant difference'
Tracey Bleakley, chief executive of Personal Finance Education Group, hopes that plans to teach finances to schoolchildren could begin the work of improving public understanding.
"We're delighted that after years of campaigning, financial education looks set to be taught in secondary schools through the national curriculum from September 2014," she said.
"This is a big part of the long-term solution to this problem and will make a significant difference.
"However, these new figures underscore the scale of the challenge.
"For financial education to be most effective, we need to teach it from a young age - which means including it in all primary schools as well as at secondary level."
Miss Highman stressed the importance of those doing the teaching actually understanding finances.
But she added that teaching children as young as seven about day-to-day finances would have little impact on adults' difficulties.
"Engagement is the biggest problem," she said. "We don't want to talk about money in this country anyway and we certainly don't want to talk about our lack of confidence and understanding about it as we can feel stupid.
"People think this education is 'useful for others, not for me'.
'Worried'
The MAS report, which was based on a survey of more than 5,000 people and followed 72 families closely over the course of a year, is described by its publishers as the "most in-depth piece of research into financial capability in the UK since the Financial Services Authority's similar study in 2006".
It identified what it believed to be a wide range of skills deficiencies required for financial management, including mathematics planning, self-control, decision-making and problem-solving.
It said shortcomings in engaging with financial management ranged from the emotional to the behavioural.
People saving for a rainy day:
16% unable to identify balance on bank statement

35% don't understand impact of inflation

12% believe Bank of England base rate is more than 10%

25% prefer living for today, not planning for tomorrow
PA
The impact of inflation was not understood by a large proportion of the population, with many unable to determine whether 5% inflation eroded the purchasing power of money in an account paying 3% interest: 35% got this wrong, rising to 43% of those aged under 35.
The report concluded: "Skills, knowledge and our attitudes are all core elements of good money management.
"We should be worried that 16% of the population can't read a bank statement and three in 10 can't pick the best out of three individual savings accounts.
"We should be concerned that over a third, 35% of us, don't understand the impact of inflation, which for many erodes the true value of our savings and our income.
"And we should seek to help the near one in five who continue to spend even when they know they can't afford it, both for them as individuals and for those, including family, industry, and the government who often pick up the bill."
A spokesman for the Department for Education said the new national curriculum would make financial literacy compulsory for the first time, as part of citizenship for 11- to 16-year-olds.
He added: "Pupils will be taught the importance of budgeting, of sound management of money, credit and debt, as well as understanding of different financial services and products. The new mathematics curriculum will also ensure that all young people leave school with an understanding of the maths needed for personal finance."