Soca chairman resigns over undeclared directorship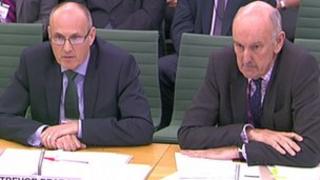 The chairman of the Serious Organised Crime Agency (Soca) has quit after failing to declare a possible conflict of interest.
Home Secretary Theresa May accepted Sir Ian Andrews's resignation on Thursday.
Sir Ian had failed to declare his directorship in a management consultancy company, Abis Partnership.
The Home Office and Soca have denied that his departure is related to the ongoing controversy over the agency's probe into private investigators.
The agency requires its board members to register their interests - but Sir Ian made no declaration when he became a director at Abis in July 2012.
In a letter sent on Thursday to Keith Vaz MP, chairman of the Commons Home Affairs Committee, Sir Ian said that while he had declared clients to whom he provided "management consultancy services", he had failed to declare the company.
Sir Ian's decision to step down comes as Soca faces claims that it suppressed a report into the illegal activities of private investigators - the so-called "blue-chip hacking" list linked to Operation Millipede.
Operation Millipede was a Soca-led investigation into private investigators acquiring information illegally.
Sir Ian and the agency's director-general, Trevor Pearce, denied to the Home Affairs Committee that the organisation had withheld information about law-breaking investigators.
Earlier this week, the committee released a document from Soca detailing that law firms, insurance companies and celebrities were among the clients of private detectives convicted of illegality.
'No alternative'
In his letter to Mr Vaz, Sir Ian said that he had "no explanation" for the failure to register the Abis directorship, "other than it was both a genuine and unintentional oversight but it is nonetheless inexcusable: and the responsibility is mine alone".
He said: "My original four-year appointment expires at the end of this week and was due to be extended until October to cover the remaining life of Soca.
"Given the above, and the fact that I have failed to maintain the standard of integrity to be expected of the head of a public body, let alone one charged with law enforcement, I believe that I had no alternative but to offer the home secretary my resignation.
"This is a huge disappointment to me personally because I have been assiduous about avoiding conflicts of interest throughout a public service career spanning almost 40 years.
"I should make clear, once again, that this is completely unconnected with the evidence I gave to the select committee, by which I stand, or issues associated with private investigators."
In a letter to the committee last month, Sir Ian denied press reports that he had an undeclared conflict of interest through his wife, Moira Andrews, who is the head lawyer for Good Governance Group - a global consultancy firm involved in security and investigations.
But it was in the same letter that he confirmed both he and his wife were directors of Abis.
He described Abis as a legal and management consultancy company whose clients had been the Department of Health, Kings College London and the anti-corruption organisation, Transparency International.